Ash Wednesday: De profundis
Throughout Lent, I will be posting images based on the readings for the daily office. Perhaps this will be daily, or perhaps not. In any case, I hope these images might provide a focus for a few moments of quite reflection and prayer.
The assigned psalms today include Psalm 130. Out of the depths. De profundis.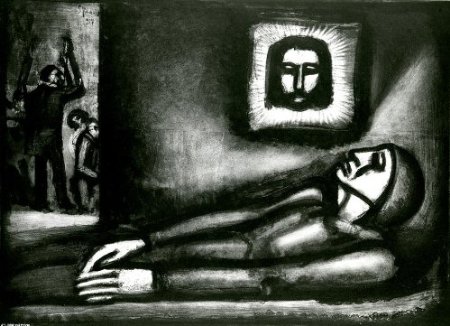 De profundis by Georges Rouault (1871-1958)
Psalm 130 De profundis
Out of the deep have I called unto thee, O Lord; *
Lord, hear my voice.
O let thine ears consider well *
the voice of my complaint.
If thou, Lord, wilt be extreme to mark what is done amiss, *
O Lord, who may abide it?
For there is mercy with thee, *
therefore shalt thou be feared.
I look for the Lord; my soul doth wait for him; *
in his word is my trust.
My soul fleeth unto the Lord before the morning watch; *
I say, before the morning watch.
O Israel, trust in the Lord,
for with the Lord there is mercy, *
and with him is plenteous redemption.
And he shall redeem Israel *
from all his sins.
From the Burial of the Dead: Rite One in the Book of Common Prayer (page 474)
Let us pray.
Gracious God, give us courage to enter the depths and struggles of our own being, trusting that you will redeem us. Through Jesus Christ our Lord. Amen.