Ashes whither?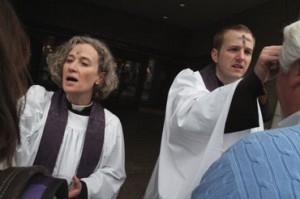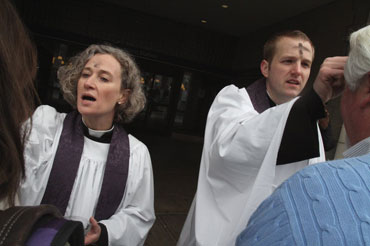 This week, in addition to repentance, papal resignations, and Lent Madness, a looming big topic is Ashes to Go. My friend Emily Mellott is perhaps the major force behind the trend, and we've had some great conversations about the practice. If you haven't heard about this practice of imposing ashes in public places on Ash Wednesday, go learn more. Not everyone likes the idea (examples here and here).
I can see rational cases in favor of and against the practice. But I have to say, I find the arguments in favor of Ashes to Go more persuasive than those opposed to it. Yes, it's true that fully committed Christians must surely present themselves for the imposition of ashes in the context of a full celebration of Holy Eucharist. But we are not the audience for Ashes to Go.
The world is more full of seekers and wanderers than it is of disciples. Our task, as Christians, is to share the Good News and preach a gospel of hope in a world without much real hope. If we limit ourselves to those who would cross our thresholds first, we will be limited indeed. The imposition of ashes is not a sacrament. One need not be baptized to receive them. And, it seems to me, the act of receiving an ashen cross and a reminder of one's mortality is as good an invitation to repent as many will ever receive. That gray cross is a powerful sign, even when that's all there is.
Let's look at it another way. What's the down side of Ashes to Go? Might we cheapen the experience for "real" Christians? Surely not. Those who have committed themselves to the faith will hardly equate a quick prayer at a train station with a full-on Ash Wednesday liturgy with a Christian community. Might we cheapen the Christian faith for those who are seeking? I don't think so, though no one could be sure. It seems to me that lay leaders and clergy who don vestments are, in some ways, taking Paul up on his offer to be fools for Christ. And the morning commuter is taking a more than a small risk walking onto a train with an ash cross on her or his forehead.
If Ashes to Go is a replacement for the Christian community gathering for the beginning of Lent, then I would be worried. That's not what's happening though. Rather, Ashes to Go is a complement to the gathered community, an opportunity both to share the need for Good News and the Good News itself.
With our church finding itself ignored more and more easily in a busy consumer world, I see plenty of good in the act of stepping out into the public square with small containers of ash. I see plenty of risk in the expectation that people must come to us, on our terms.
It seems that we should learn what we can from this practice. Does it draw people into a life in Christ? Does it somehow water down our proclamation? Does it transform lives? While we are asking questions, it makes sense to try this approach to Lent in the world. If, as I suspect, Ashes to Go turns out to be an effective way to transform lives and invite people into the gathered community, by all means, let's keeping doing it.
Sure, Ashes to Go isn't for every priest, nor is it for every community. As for me, I will pray for those who will be at train stations, sidewalks, and malls. I will pray for those offering ashes and for those receiving them. May we never forget our mortality and our need of redemption, and may we be willing to remind the whole world of its mortality and need of redemption.
Photo from the Providence Journal.