Nemesis news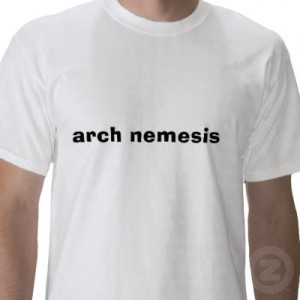 Long-time readers of 7WD will know two things about this blog. First, I don't always write about inside-baseball churchgeekery. Second, one of my favorite unholy topics is my archnemesis, Tim Schenck. Plenty of people were confused at General Convention, because we were seen together — sometimes smiling. But it was just because we had to. Lent Madness has forced us together, so we manage to tolerate one another. Plus, I get plenty of ammo for my anti-Tim rants.
Before I get to Tim's many flaws, I thought I'd share some other nemesis news. In recognition of his devious ways and secret identity, I am hereby naming Maple Anglican (pronounced anj-el-i-can) as an Official Nemesis. Because he's Canadian, he'll never be promoted to archnemesis. However, given that Canada is overrun by excrutiatingly pleasant people, I think nemesis is the equivalent of a shark amongst minnows.
After years of careful consideration, I am hereby naming an Official Overseas Archnemesis. Dave Walker, cartoonist/ne'er-do-well. His British citizenship and dominance over the Anglican Communion makes him eligible for the title of archnemesis, which he has surely earned. Besides his ostentatious palace-tent at the Lambeth Conference, Dave was implicated in a feather-ridden scandal which has never been fully investigated. So consider yourself duly notified. I can handle two archnemeses, especially because they are on different continents.
Well, back to Tim.
My longtime archnemesis has launched a silly blog, "10 Things That Annoy Me". It fits his spiritually uplifting worldview perfectly. Whilst I cannot condone his negativity, I do think it's important to speak truth to your archnemesis. So I have compiled a list of annoying things about Tim. Remember: it's completely different from his cynical list. My list retains spiritual goodness, infused with truthiness. The church has long practiced the habit of engaging in harsh criticism of its rivals, and I intend to continue to the venerable practice.
So here's my list:
He constantly goes on about his ferrets.
He denies is God-fearing parishioners the right to root for their local sports teams by cheering for the Ravens. As if it's going to do any good.
When I visited his parish to preach, he tried to steal my prayer book. I am not making that up.
He might be on the Supreme Executive Committee with me, but he's totally riding my coattails.
He posts things allegedly written by horses, dogs, and cats on his new blog.
Honestly, he has ferrets in the kitchen.
He even leaves annoying/awkward pauses in his videos.
His pamphlet rack at church is woefully understocked with Forward Movement products. If he were to place a large order, there might be only nine things annoying about him.
His blog's domain is tediously long (like his writing), unlike the terribly chic 7wd.org.
So there you have it. News about my Archnemesis, Overseas Archnemesis, and Nemesis to the North.
P.S. Tom Ferguson is angling to be named a nemesis, but he'll have to clear up a few things first. Which is it, a Hall or a Seminary?
P.P.S. Last year, I gave up my archnemesis for Lent. It was a grueling season, so I might just take a pass on Ash Wednesday next year.