Conversations on structure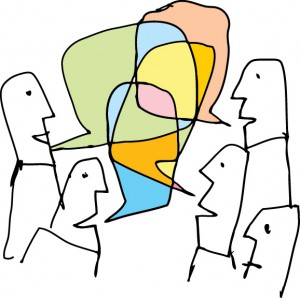 I am grateful that we're finally starting to have more real conversations about our church, its future, and our need to rethink ourselves in the present. The Presiding Bishop did us a great service today by presenting a game-changing budget. Check out some early responses from Susan Snook, Crusty Old Dean, and, um, me.
On social media and on my blog, I've enjoyed the interchange with folks — especially because we've had some thought-provoking disagreement. That's the pot in which good soup is made. Or something like that. A few messages have come to my email inbox, in some cases pointing out the error of my ways. It's enlightening to read those too.
I was going to blog more about the budget, but as I studied it, I ran into a bunch of questions. So I've fired off an email to get some answers from the source. Tomorrow perhaps I'll have more to say. (By the way, I've found folks to be very responsive, so if you have questions, ask the good people at 815 rather than practicing random speculation. Though random speculation is an awesome sport.)
So instead of my own thoughts this night, I'll leave you with a completely and utterly fantastically provocative blog post by Bishop Kirk Smith of Arizona. Talk about getting the conversation going!
Are we up to abandoning the practices that hold us back? I am not sure, but I do know the consequences of trying to carry a lot of useless baggage. I am often reminded of the story of the Franklin Expedition of 1845. In that year, Captain John Franklin set sail from England to find a Northwest Passage through the arctic ocean to shorten the route between Britain and the Orient. Being a proper Englishman, he brought with him everything he thought necessary for such a trip—dress uniforms, silver tea service, tins of gourmet food, ceremonial swords, and cannons (for use on seals?). They were so loaded down with "necessities," that their heavy ships quickly became trapped in ice floes. The crews tried to jettison the now useless "necessities," only to find they had not brought along what they really needed—foul weather gear, non-perishable rations, and ropes. All 129 crew members perished on the ice. The mission failed because it was weighed down by frivolous items which were totally unsuitable for the new environment in which they found themselves, and yet they could not, or would not, jettison them.
Read. Mark. Learn. Inwardly digest. Leave a comment. Share. Rinse. Repeat.