Blogging "Blue": Structure of the Church
This is the twenty-first in a series of posts on the "Blue" Book for General Convention 2012. Previously, I blogged about Stewardship and Development. Next up is World Mission. Please see my index of General Convention 2012 resolutions, with a summary of the 7WD position on them.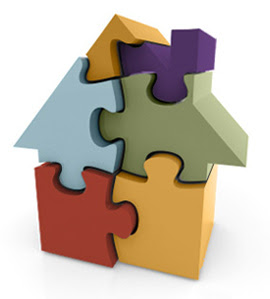 Here we go. This post about structure reform resolutions will wind up the defenders of the status quo and bring out people who are eager to score points in the battle that has shaped up. Be cautious about those who say there is no battle going on, because there are at least a couple of different divisions among our church leaders about how the Episcopal Church should adapt itself for our time. The good news is that the church has survived squabbling leaders for 20 centuries, so we'll get through this one too. The bad news is that I don't think we'll get serious about the conversations we need to have until things get much worse than they are now.
I won't write much about what I think the causes of conflict are, but one clear cause of conflict is fear of an unknown future. The comfortable days of the 1950s — in which the institution of the Episcopal Church mushroomed — are not coming back. More and more people can see that, and the question becomes one about HOW we will change, not WHETHER we will change. This is good, because it forces us to have conversations about what is most important. We have to make choices about what to let go.
Here's my contribution to the structure conversation: read the Book of Acts. I think if we could get lay and clergy leaders to study Acts together, it would put our polity and mission conversations into the right context.
So, with that said, here are the resolutions from the Standing Commission on the Structure of the Church (lots of them).
A090: Endorse the Principle of Subsidiarity. Likely vote: YES, but only if amended.
In the skirmishes that have shaped up in our church, certain words have taken on political meaning beyond the normal context of these words. "Mission" and "governance" are used differently by different people. The principle of "subsidiarity" is another such word, and this resolution asks us to do something that is seemingly harmless: to support the notion that we should do work at the levels where it is best done.
In theory, of course, most anyone would agree with this. But often the concept of subsidiarity is used by those whose agenda includes dismantling the staff and programs of the Church Center in New York. To be clear, I think we need a much smaller churchwide staff, so I have no qualm with someone raising this issue. I'm just pointing out for those who are just tuning in to what is happening that things are not always what they seem to be at first glance. And this resolution is in that category.
This resolution seeks a review of "whether current or proposed programs, staffing, offices, office locations, including 815 Second Avenue in New York City, provinces, and budgets are consistent with the principle of vigorously encouraging the exercise of any given ministry by the parts of this Church most appropriately gifted to undertake it." Notice that no mention is made of Committees, Commissions, Agencies, and Boards (CCABs). If passed as is, the principle of subsiarity will be applied to program staff at 815, but not to the fifty bazillion committees of the Episcopal Church.
If we're willing to look at everything — and I mean everything, leaving no stone unturned — I wholeheartedly support an examination of what should be done at which levels. If we are scrutinizing only one part of our system, we won't fix things, because the whole system is broken — staff size for our church, programs, CCABs, and more. So let's look at it all, and not just some.
A091: Reduce Diocesan Apportionments. Likely vote: NO.
Again, I am not interested in tinkering with the levers when the machine is busted. In this year's budget disaster, some people pushed for a 15% diocesan assessment, but Executive Council decided at the eleventh hour to keep it at 19%. So this resolution would try to push it down from 19%. The problems are many. Not every diocese pays its assessment. Perhaps not every diocese should pay its assessment. We have a bloated budget that we have been unwilling (so far) to tear apart and rebuild. Our budgeting process is woefully shattered. So let's leave the assessment alone for now, and fix the whole package. What we need now is a transitional budget that puts us into a place where we might get a rational budget in 2015.
I think if it were up to me, I'd have a mandatory assessment for the canonical budget and a voluntary asking for the program budget. Lots of advantages here, but now's not the time. (Ask me, and I'll blog about it.) I'm voting no on this one because we need comprehensive fixes, not minor tweaks to make us feel better or, worse, score points in a battle.
A092: Length of the 78th General Convention. Likely vote: NO.
This one would lengthen the General Convention by two days from this year's length. Frankly, it annoys me that the explanation doesn't say this. Rather, it says, that the Convention should be "not fewer than ten days, in accordance with the guidelines adopted in 1988." I wish they'd have mentioned the bit about how this year is only eight days. Anyway, I think we need to keep ourselves on a short leash. If we don't bring 200+ resolutions forward for consideration, we won't need a long time to deal with them. Again, I'd like us to look at the whole picture of General Convention. Until then, I'm not interested in lengthening it.
A093: Fund for the Length of the 78th General Convention. Likely vote: NO.
Same reasons as above.
A094: Establish Financial Assistance Fund for Deputies. Likely vote: YES.
If passed, we'd have a fund which might help fund dioceses so they can send at least two clergy and two lay deputies. Some of our smaller dioceses are really struggling, so I think this is not a bad idea. That said, I do not know where the money is going to come from.
A095: Frequency of Interim Meetings of the House of Bishops. Likely vote: NO.
Our House of Bishops (or perhaps, technically, the bishops of the Episcopal Church) currently meets twice each year. Some people feel that the bishops should meet less because of cost, or because the House of Deputies does not meet in the triennium, or because they are worried that too much purple in one place will cause some sort of explosion. (Made up the last one, but you get the idea.) Given that the dioceses pay for this, I am not sure that it matters too much from a churchwide cost perspective. (Remember subsidiarity?) As I understand it, the meetings are voluntary, so if a bishop wants to stay home to save money, she or he could do that. On the other hand, serving as a bishop can be an isolating experience, and we need well equipped, healthy leaders. If these meetings help the bishops do their work more effectively, I'm all for it. But let's leave them to figure that out. (David Simmons has blogged about HoB meetings and the desire to curtail them. Go check out what he has to say.)
On a related note, I am concerned about the veil of secrecy around the bishops' meetings. When they are debating/discussing church business, the meeting should be open to the public, ideally on the internet. Only when the bishops are on retreat or, in rare instances, meeting in executive session, should the public not be welcome. If there were a resolution to support open meetings for our bishops, I could get behind that. But I have digressed. As usual.
A096: Reduce Barriers to participation in Church Leadership and Governance. Likely vote: NO.
I just don't understand this one. In its entirety, it says this, "That dioceses and congregations explore creative ways to reduce barriers to participation in Church leadership and governance, which barriers may include time away from home or employment, or the need to care for family members." Um, OK. But how? Meet less? Video conference? Hire babysitters? It seems like the very definition of a waste of time to express sentiments without an aim in sight. If there is an aim, it is more politically sophisticated than this blogger understands. Can someone 'splain it to me? Because otherwise, this is like the "puppies and chocolate" resolutions I wrote about a few days ago, telling us what we like or should have more of, but with little possible effect.
A097: Fund Initial Joint-CCAB Meeting Following the 78th General Convention. Likely vote: YES.
If passed, this funds a massive Episcofest among all the Committees, Commissions, Agencies, and Boards of our church soon after the General Convention. Seems good to get people together face-to-face now and again, and here is an opportunity to train leaders and share work with one another. Great idea. Let's do it.
A098: Fund Initial Joint-CCAB Meeting Following the 77th General Convention. Likely vote: YES.
Same as previous.
A099: Fund Web-Based Mid-Triennium CCAB Meeting. Likely vote: YES.
Asks us to spend a little money ($5,000) for a web conference among CCABs. Once. This idea is so good, I wish we were doing it more. My only quibble is that I don't understand why General Convention has to sign off on this. Can't our Presiding Officers summon the CCABs, and spend $5,000 which is chump change in a $100M+ budget? But my grumpiness about that won't keep me from happily voting yes to keep us talking to one another.
A100: Coordinate Church Reform and Restructuring. Likely vote: YES, but only if amended.
Here we are getting to a central point of disagreement among those who are pushing for structure reform. Who gets to drive the bus? If this passes as is, the structure commission has good claim to be in the driver's seat. Those who like this idea will say that we already have a structure commission, so why start another committee? But on the other side, many people — me included — feel that we need a fresh perspective to get real change.
For me to support this, I'd want to see the language changed so that the SCSC is not "reviewing" other proposals, but rather that the SCSC is "consulted" on other proposals. That way, we benefit from their wisdom and expertise, but we do not preclude other good ideas from being surfaced. Now is not a good time to set up gate keepers.
Most of the resolution sets up a process by which the SCSC would collect feedback from dioceses, and I support this work. In return for their wisdom on other structure proposals, I'd like to see language which would ask the SCSC to consult with others who might be working on restructuring as they facilitate the conversations at the diocesan level. More input is better. More constituencies involved is better. So when we are having diocesan conversations, let's benefit from both the SCSC's ideas and from other ideas.
So if this resolution keeps this commission involved in restructuring conversations, I'm all for it. If it puts them in the driver's seat or closes down other conversations, I cannot support it.
A101: Convene Consultation on Diocesan Effectiveness. Likely vote: YES.
Many people believe we have too many dioceses in the Episcopal Church, and I am one of those people. This resolution would encourage some study and conversation about possibilities for re-aligning dioceses with an eye toward downsizing. No harm in it, and there's plenty of potential good here.
A102: Amend Article V of the Constitution. Likely vote: YES.
At present, when two dioceses want to combine, they are prevented from doing so without a bishop. As the explanation points out, it is often in the transitional moments between leaders when creative possibilities are imagined. If passed, this would change "Bishop" to "Ecclesiastical Authority" so that a standing committee could take action in the absence of a bishop if desired. There are some other housekeeping updates which all seem to make sense. We need to combine more dioceses, so let's get our process as clean as possible.
A103: Study Title IV Disciplinary Canons. Likely vote: YES.
This one would set up a process whereby the clergy disciplinary canons could be amended, as needed, for use in countries other than the United States where the legal context may be much different. Makes perfect sense. (Did we not think of this until now, or did we put it off for some reason. Just curious.)
A104: Amend Canon I.4.3(a). Likely vote: YES.
Cleanup language for the transitional time between when we have elected a new Presiding Bishop and the time she or he takes office. Who chairs Executive Council? Seems reasonable. On a related note, the report for this resolution also says they considered and rejected the idea of a canon change which would have lengthened the term of the Presiding Bishop. I'm not sure if this is good or bad, but I thought it was interesting.
Oh, and on the subject of Presiding Bishops, I think I would support a return to the pre-1919 model in which the Presiding Bishop keeps his or her diocese, thus reducing the position from a full-time job to one that only fulfills some constitutional and canonical roles. This would require the hiring of an Executive Director or General Secretary or something to run the (much reduced) church center staff. That's how almost every province in the Anglican Communion does it. Once again, I have digressed. Oops.
A105: Amend Canon I.2.1. Likely vote: YES.
Ostensibly, this adds the responsibility for providing transition assistance to the work of the Joint Nominating Committee for the Election of a Presiding Bishop. (Disclosure: I serve on this committee at present.) That seems reasonable. But there is more. The canons would be modified with some inserted text which looks redundant to me; this is not too surprising, as our canons are overall a giant mess. However, there is one specific provision that puzzles me. The joint nominating committee would establish "a timely process for any bishop or deputy to express the intent to nominate any other member of the House of Bishops from the floor at the time the Joint Nominating Committee presents its nominees to the joint session of the two Houses, and for each Bishop so nominated to be included in the information distributed about the nominees."
At present, any deputy or bishop can nominate any bishop from the floor immediately before the election of a Presiding Bishop. This seems like a bad idea to me, because it makes background and reference checks impossible. So part of me likes the suggestion here that people would submit names in advance. But why not make it more clear? Let's just say nominations have to be made 60 days before the election or something. This seems to canonize a suggestion without precluding last-minute nominations, which I don't understand.
So I'll support this because it does something useful (attends to transitional assistance for the PB and PB-elect) and because it paves the way for an improvement in the nomination process.
A106: Amend Canon I.9. Likely vote: YES.
Adds a canon which would require provinces to report to the General Convention on how they have spent funds from the Convention. Accountability is good. Left to my own devices, I'd add a requirement that the reports be publicly available.
A107: Amend Canon I.1.5. Likely vote: YES.
Fixes a canon so the Secretary of General Convention is also the Registrar of the Convention. Fine by me.
If I could edit this, I'd clean up the language about bishop ordinations. They are ordinations, not consecrations or, worse, ordinations and consecrations. Let's use the language of the 1979 prayer book, not the language of the 1928 prayer book. I had been meaning to rant about this in a separate blog post, but there you go. In our current prayer book, deacons, presbyters, and bishops are all ordained. One part of that service is the consecration. So if we're going to talk about the consecration of bishops, we also need to talk about the consecration of deacons and presbyters. Anyway, it's not really germane to this resolution, so I'll get on with my business. Thank you for your time.
Notes
I hope this commission will be a leader (but not the leader) of structural reform conversations in the next triennium. My concern with this group leading the charge is manifest in their resolutions, which are geared toward a revision of everything in the church except for the General Convention. In my view, we need to look at everything, with no sacred cows. Clearly, we will want to benefit from the wisdom, experience, and expertise of this inside the current General Convention establishment, just as we should listen to what our staff at 815 has to say. But the best ideas will probably come from a fresh group of fresh thinkers — people who are not locked into particular outcomes and who are willing to listen attentively and dream boldly.
Lastly, unrelated to resolutions, the SCSC says in their report, among other things, they want to look into what it means to be an "Agency" of the Episcopal Church. Forward Movement, my employer, is one such agency, along with the Archives of the Episcopal Church, the Church Pension Group, the Episcopal Church Building Fund, and perhaps others. I welcome the conversation, and I think it will be helpful both to agencies to the wider church.