Blogging "Blue": Small Congregations
This is the eighteenth in a series of posts on the "Blue" Book for General Convention 2012. Previously, I blogged about Mission and Evangelism. Next up is Social Justice and Public Policy. Please see my index of General Convention 2012 resolutions, with a summary of the 7WD position on them.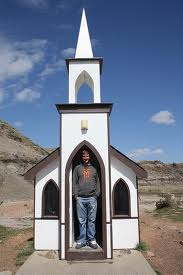 Along with the resolutions I'm blogging about, each of the standing commissions includes a report of its activity over the past triennium. Many of the reports are not particularly noteworthy. This is understandable; the "Blue" Book is an insider's document. I say that without judgement, but as a simple statement of fact. In any case, I commend to you the report of the Standing Commission on Small Congregations. They raise some important issues, and they've done a nice job networking with others and fostering grassroots work.
The median attendance of a congregation in the Episcopal Church is under 70 people. If we do not find a way to change our notions of small congregations, we're about to lose a bunch of them to financial implosion. Spiraling personnel costs, deferred building maintenance, and aging congregations are not a good combination for long-term prospects! However, if congregations are willing to give up their buildings or their salaried clergy, the odds of survival get higher, provided they maintain a deep sense of discipleship, mission, and evangelism. Easier said than done!
Anyway, these folks have just one resolution. (Kudos!)
A076: Strengthen Small Congregations. Likely vote: YES.
This resolution urges networking among various stakeholders, as well as engagement with some key issues. For example, the commission says that Church Pension Fund policies are not friendly to the needs of small-church clergy. I suspect they are right about that, but a solution will be complex, in order to maintain fairness across the church and to comply with regulation. You get the idea. This stuff is not easy!
This resolution would also ask us to make small congregations a major focus of the next General Convention. There is very little not to like in this resolution, and we certainly need to do some thinking, praying, and experimenting if we want our small congregations to survive.
On a related note, I would be pleased for Forward Movement to offer resources that might help small congregations. If you have created resources that should be available to others, or if you have identified particular needs, we're all ears. It is a wonderful blessing to be serving in a position in which I get to connect people with great ideas to those who have need of resources.
Photo credit: Danandloulou on TravelPod.