Blogging "Blue": Liturgy Sundries I
This is a fourteenth in a series of posts on the "Blue" Book for General Convention 2012. Previously, I blogged about Holy Women, Holy Men (SCLM). Next up is Liturgy Sundries II (SCLM). Please see my index of General Convention 2012 resolutions, with a summary of the 7WD position on them.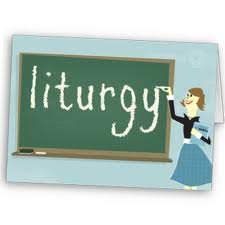 Here we will quickly cover a bunch of the resolutions from the Standing Commission on Liturgy and Music. A couple of the resolutions here could use some lengthy commentary, so if you want more, please let me know in the comments. Otherwise, I'm going to keep moving through the "Blue" Book.
First, a general comment. I enjoy and practice liturgical creativity within the rubrics and customs of the Episcopal Church. In the parish I served, we blessed animals near St. Francis Day and went on a Procession in Rogationtide. During the course of a church year, our Sunday liturgies would journey through all six Eucharistic prayers of the prayer book, plus one prayer of EOW.
However, I wonder where the pressure is coming from for a massive expansion of liturgical resources. For those who want to do these things, there are ample resources. Church Publishing (or Forward Movement or another publisher) could publish material without going through General Convention. I'd like to see our SCLM focus on some essentials and get them right, rather than spread themselves thinly over many projects.
Episcopalians can do liturgy without recourse to authorized texts in many cases, especially in the kinds of situations contemplated here. I don't need a bishop's permission to use a particular text to go bury someone's dog. (And I do think that it is pastorally appropriate and even important to offer this kind of care.) I can use any form of daily prayer I want in my own prayer life. Phyllis Tickle has written lovely daily prayers. There are loads of Celtic-inspired resources out there. The Roman Catholics have published zillions. Forward Movement has published some fantastic daily prayers. Do we really need more texts, especially authorized for Sunday use in a principal liturgy?
A053: Authorize Liturgical Materials for Honoring God in Creation. Likely vote: NO.
These texts include a rogation procession, some prayers of the people, a confession of sin against creation, propers for creation, and more. For the most part, I don't mind these texts, but there is no reason for them to go through the liturgical authorization process. However, if we are going to authorize them, then they should go through trial use before they are authorized. As the resolution now stands, these materials could be used by congregation in Sunday worship without permission from the Ecclesiastical Authority. If we are going to approve them (and I do not think we should), they should be trial use for now. Then in three years, they could be considered for the Book of Occasional Services.
Among other things I do not like about these texts, the proposed prayers of the people violate the rubrics of the Book of Common Prayer (see page 383). If we are going to authorize texts, let's at least make sure they conform to our rubrics.
Also, not all of the texts are not suitable for use by regular people, though I am sure some communities would love them. Here is one of the petitions: "On eukaryotes and prokaryotes, archaea and viruses; on microbes of endless variety, the complex and the simple, Creator, have mercy." Think about the person who leads the prayers in your congregation. How would she or he do with that? (There is a 200 word footnote to explain what those words mean. Should we need lengthy footnotes to explain our liturgy?)
I'm all for publishing these texts, but not as liturgies which are authorized or likely to become so.
A054: Authorize Rites and Prayers for the Care of Beloved Animals. Likely vote: NO.
These are a set of texts for various occasions, including the burial of a pet. Again, my principal objection is that I do not see why General Convention is being asked to approve these. If Church Publishing or someone else published them, I'd probably buy them and use them. But these do not need to be authorized. Let's focus on what we need to do, so we can do our necessary work with excellence.
A055: Authorize Daily Prayer for All Seasons. Likely vote: NO.
This is the most egregious example of work we do not need to do as a General Convention. There are loads of options already available for people who want to practice daily prayer but for whom the daily office does not work. Who is asking for this material? Who will use it?
If we are going to approve these texts (which would be a mistake), then they certainly need to be adopted for trial use. As the resolution now stands, a congregation could use these instead of, say, Morning Prayer in their principal service. The texts are not ready for that level of approval. The Ecclesiastical Authority should approve and monitor the use of these materials if they are to be used in congregations.
Let's send these texts to a publisher and make them available that way, perhaps as a book, ebook, and app. Then they can be used, but they will not distract us from essential work — on the SCLM, at General Convention, or beyond.
A056: Continue Revision of the Book of Occasional Services. Likely vote: NO.
I will gladly change my mind about this, if it can be shown that there is a need in the wider church for this revision. Who is requesting the work? What is the intent of the project? Are there other ways to make rites available, such as the Enriching Our Worship series?
The SCLM has not done a good job on much of what it has taken on during the last few triennia. I suspect that this is because they have taken on too much work. Anyone who takes on too much ends up cutting corners here and there. Let's slow down the proliferation of projects for a triennium and focus on quality. Perhaps the problem is that the SCLM is underfunded. If that's the case, then let's find the resources to help them in their work — so long as they can articulate a need and a plan to do excellent work.
A057: Authorize Enriching Our Worship 1, 2, 3, 4, and 5. Likely vote: YES.
This resolution would authorized the continued use of some contemporary-language liturgical resources. These texts are already done, and many people find them helpful. While no text is perfect, the quality of these (especially EOW 1 and 2) is generally good. Let's authorize their continued use. However, one amendment to the resolution should be made. As it now reads, their use is permitted "under the direction of a bishop exercising ecclesiastical authority." That should be changed to just "under the direction of the ecclesiastical authority." In the case when a bishop resigns, the Standing Committee generally becomes the Ecclesiastical Authority until a bishop is elected. Shouldn't it be possible to use these texts during those times.
Also, at some point, it would be nice if the Holy Eucharist texts in EOW included the Lord's Prayer. I'm sure it was an omission (*cough* quality *cough*), but it seems strange. For that matter, it would also be nice to see a concluding response after the Gospel reading as well. But I'm willing to approve these as is for expediency's sake.
Oh, one more thing. At last General Convention, resolution 2009-A102 authorized the continued use of the EOW materials, specifying "that these liturgical texts be freely available in electronic format on the internet." As far as I can see, neither the SCLM nor Church Publishing has complied with this mandate from the General Convention. Maybe we should halt all new work until we complete our old business. Since General Convention has funded the creation of these texts, it only makes sense that they be available freely to the members of the Episcopal Church in electronic form. Why has this not been done?
An idea
Maybe we should authorize the Common Worship materials from the Church of England. There are all sorts of goodies there, from Holy Eucharist to the daily office, from seasonal material to pastoral resources. It's all theologically coherent and well worked out. Moreover, everything is freely available for download on the Internet. You can buy the books, or use the electronic texts. (That's the way all Episcopal liturgical texts should work too.) Approving Common Worship would satisfy all those who want an expansion of authorized material, and it would free up the SCLM to do other work. Does the Episcopal Church have to reinvent every wheel, or can we go for a spin on the good work of others?