Blogging "Blue": Holy Women, Holy Men
This is a thirteenth in a series of posts on the "Blue" Book for General Convention 2012. Previously, I blogged about Same-sex Blessings (SCLM). Next up is Liturgy Sundries I (SCLM). Please see my index of General Convention 2012 resolutions, with a summary of the 7WD position on them.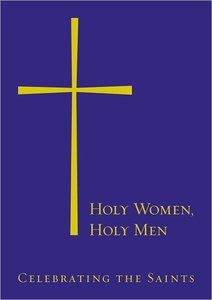 I have previously written about my issues with Holy Women, Holy Men, the trial use kalendar of the Episcopal Church. Many of the people featured in the volume are not known for their inspiring witness of the faith, but rather were famous for being first at something or for cultural accomplishments. While it is fine to celebrate their lives, to commemorate them in our kalendar is confusing at best.
Derek Olsen has written a lot about the many problems with Holy Women, Holy Men on his blog and in the Living Church. I encourage you to read his scholarly, theologically careful, and well articulated critique. Go ahead, right now. I'll wait.
OK, now that you're back, I also object to the process for this work. The SCLM has been driving it hard, and then claiming that General Convention really wants this. Well, OK. But who wrote the resolutions for General Convention to pass? I'd like to see General Convention reject the whole enterprise. And then let's find a publisher to make the work available for people who find this kind of devotion helpful in their prayer lives. In fact, I will say that Forward Movement would be pleased to publish this (though I suspect Church Publishing is a better fit; just wanted to put my money where my mouth is).
Not every liturgical idea needs to become part of the authorized liturgical corpus of the Episcopal Church. Sometimes, it is enough to make texts available for appropriate use by congregations and individuals.
OK, here are my (predictable) thoughts on the Holy Women, Holy Men resolutions.
A051: Continue Trial Use of Holy Women, Holy Men. Likely vote: NO.
I've already said what I have to say, here and elsewhere. Time to end this project of radically expanding our kalendar with people who do not meet the criteria we have identified for inclusion within our kalendar.
A052: Identify Additional Church Calendar Commemorations. Likely vote: NO.
Our expanded trial use kalendar is already rife with problems. Let's not make it worse. There are several "firsts" here. What if we were to discover (as happens not infrequently) others who were first? Would we remove these people, and add the others? What does that say about the criteria for our kalendar and our theological integrity?
Really, go read what Derek has written. If you are a deputy or a bishop, it is important to understand the problems with Holy Women, Holy Men. If you are not voting at this Convention, please contact your deputies and bishops about this. Many people simply have not bothered to think about Holy Women, Holy Men and the challenges it poses.
P.S. If you are planning to vote YES for Holy Women, Holy Men, I have a suggestion. Call your local rabbi and ask him or her what he or she thinks about a bunch of Christians saying that a twentieth-century Jewish chaplain is in the Communion of Saints (yes, that thing that knits together the Body of Christ). Yep, that's what we are doing with Holy Women, Holy Men. Ironic, isn't it, that we are also considering a resolution about Christian anti-Judaism?