Further thoughts on Confirmation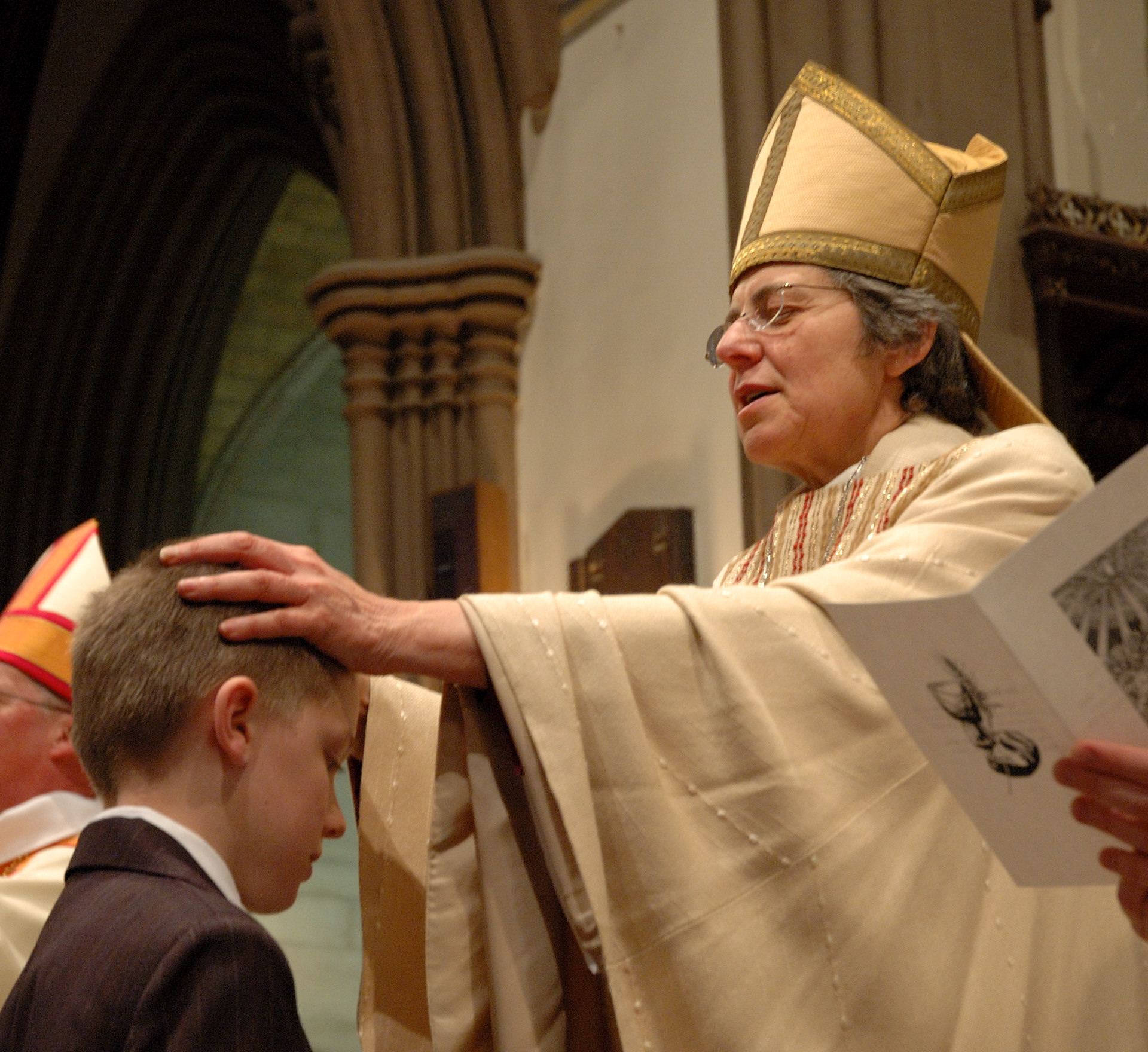 In my continuing series on the "Blue" Book for General Convention, I posted a bit yesterday about some resolutions related to Christian formation and education. A could of those resolutions deal with confirmation, so I made a few comments. This has generated further conversation on various blogs and on Facebook. I thought it might be useful to share a bit more, since I can ramble on here without worrying about covering lots of resolutions within the post.
Confirmation is  — as the prayer book calls it — a sacramental rite of our church. On that, we can all agree. Once we say more, people start to have wildly varied opinions. Back in the day, confirmation was required in order to receive Holy Communion and for full adult membership in the Episcopal Church. There are some folks who would like to return to this view. Others would like to toss out the whole rite of confirmation. This particular post didn't cause reactions which touch either of those extremes, but some things have been asserted which merit a response.
For the record, I am a fan of confirmation. I have gladly presented youth and adults for confirmation, and if I am called to return to parish ministry, I will hope to do so again. It is enough, in my view, to take seriously what the prayer book says in the catechism, that confirmation allow us to "express a mature commitment to Christ, and receive strength from the Holy Spirit through prayer and the laying on of hands by a bishop " What's not to like?
I see no reason to get rid of confirmation or to diminish this function. There is also no reason for confirmation to mean more than this. Is it not enough to receive strength from the Holy Spirit through prayer in the laying on of hands?
Our current prayer book makes it clear that baptism is full initiation into the Body of Christ. There is no asterisk. Check it out on page 298. Nowhere is confirmation described as a necessary sequel to baptism.
In the 1928 prayer book, the teaching was that confirmation be required prior to receiving Holy Communion, and therefore, confirmation was understood to be the completion of initiation begun in baptism. But we do not live by the 1928 prayer book. In the canons of days gone by, confirmation was required for adult membership in the church, but we no longer live by those canons. Indeed, according to our canons, one becomes a member of an Episcopal Church by having one's baptism recorded in the parish register. There is no need to meet the bishop to "become and Episcopalian," though I continue to encourage people to do this.
Derek Olsen responded to my post, writing that "Baptism is full initiation into the Body of Christ; Confirmation is full initiation into the Episcopal Church." I can find nothing which says this, either in or canons or in the prayer book. I think it is a thought-relic of the 1928 prayer book.
In the universal church, there is a wide range of practices and teaching around Christian initiation. Some catholic Christians maintain the unity of the rites by doing baptism and confirmation in one fell swoop. Others practice confirmation by bishops at a later age, requiring confirmation prior to reception of Holy Communion. Both of these are ancient and venerable traditions. But it seems to me that what our prayer book teaches is the most ancient, venerable, and scriptural tradition. Baptism is more than enough. 
There is a also bit of misunderstanding floating around about what has been proposed. Chris Arnold says that the passage of current resolutions would remove the requirement of confirmation for those seeking Holy Orders, which is not correct. Rather, resolution A044 would ask that the issue of confirmation and ordination be studied. I have mixed feelings about this, as I wrote in my first blog post.
Chris is also concerned about efforts to remove confirmation as a requirement for leadership in the Episcopal Church because he sees a connection to (unfortunate, in my view) efforts to remove the requirement of baptism to receive Holy Communion. I do not see a direct connection here. The work on confirmation would actually clarify our baptismal theology, which if fully realized prevents us from sanctioning practices such as communion without baptism.
In a time of anxiety such as the present one, I think we need to be careful not to let our fear of one thing spill over into the thinking about another. This is not a criticism of Chris so much as it is a reminder for myself and all others. There are, for example, conversations going on about our church that frighten me. But I should not let these conversations and the fear they create in me spill over into things to which they are not connected.
Let me be clear: I support and embrace the place of confirmation in the life of our church. But let us celebrate it as a gift of the Holy Spirit rather than as a check box in our raising up of leaders.
I am delighted to report that Forward Movement is now publishing Confirm not Conform. I hope lots of congregations will use this program — or others like it — to prepare youth and adults for confirmation. But when we are preparing them, we are preparing them to make a mature profession of the Christian faith. No more, and no less. That is more than enough.