Blogging "Blue": Music
This is a eleventh in a series of posts on the "Blue" Book for General Convention 2012. Previously, I blogged about Lifelong Christian Formation and Education. Next up is Same-sex Blessings (SCLM). Please see my index of General Convention 2012 resolutions, with a summary of the 7WD position on them.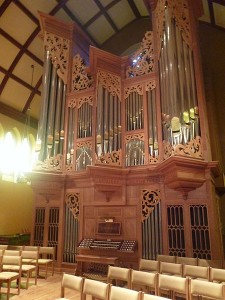 Because the reports and resolutions from the Standing Committee for Liturgy and Music are so lengthy and complex, I'm breaking this one into a set of posts on particular topics. Today we'll deal with music. Next up is same-sex blessings, but it might be a day or two, because of family activities.
Before we look at the one resolution on music, we should take note of the report on the hymnal revision study. Last General Convention charged a group to figure out if it's time for a new hymnal. The short answer is "no." While clergy and church musicians narrowly favor it, lay members oppose it 2-1.
It is worth reading the whole report (60+ pages!). Lots of good info, but I was especially struck by the fact that young adults do not want a new hymnal. This flies counter to what we sometimes hear (from older people) about what young people want. Robert Hendrickson has covered this thoroughly. You should go read his blog post right now. And also subscribe to his awesome blog while you are there.
He helped me spot this quote, from a 22 year-old, in the report.
I think there is a huge assumption made that the younger generation wants guitar- and piano-based praise and worship music. …What we want to hear in a Sunday Eucharist are the classic hymns played on organ. And occasionally we want to chant. Church is the one place where our musical taste is not based upon fad, but instead links us with a much more important, more elegant tradition. If I wanted to listen to acoustic guitar and piano, I'd pick up Dave Matthews or Ben Folds. If I wanted rap, I'd listen to Lil Wayne. …For worship, I want music that connects to me a world outside of the in and out of my daily life.
Put that in your praise band pipe and smoke it.
This could be a longer post/rant, but I'll move on because there's still A LOT of "Blue" Book to cover. Here's the one resolution on music.
A048: Form Congregational Song Task Force. Likely vote: YES.
If adopted, establishes a task force to make resources available to congregations to help them sing better, and does some leadership development (I think). As with some of the other resolutions, I have questions about whether a church commission is the best place for this work to take place. Association of Anglican Musicians, perhaps? I think projects should be done at the churchwide level only if that is the best/only choice. As for the "World Music Project," my experience as a church musician suggests that people who want to use world music can find plenty of resources right now; we don't need an Episcopal version of global music. That said, I'm inclined to give folks the benefit of the doubt. There's no expense listed here, which means they'll be doing this work mostly by Skype, etc. So I'm all for supporting passionate people in doing their thing. Hope something good comes out of it! Certainly, congregational singing in the Episcopal Church can only get better, and we'll make that change through some experimentation and trial, both in terms of content and process. While there is plenty to suggest our musical diet should be based mostly on traditional Anglican music, there is plenty of room for other things, by varying degree depending on your congregation and context. So, world music? Bring it on — in the right place, at the right time.
My hope is that folks will have paid attention to the survey. Most people who sit in most pews are content with hymns from the hymnal. Let's listen to that chorus.
Photo from Wikipedia. It's the Rosales organ at Trinity Cathedral, Portland, OR.