Blogging "Blue": Lifelong Christian Formation and Education
This is a tenth in a series of posts on the "Blue" Book for General Convention 2012. Previously, I blogged about Health. Next up is Music (SCLM). Please see my index of General Convention 2012 resolutions, with a summary of the 7WD position on them.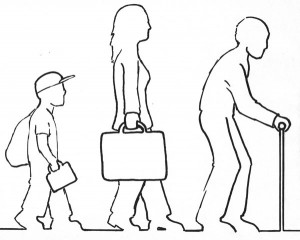 Not having seen formal statistics, my sense is that the vast majority of Episcopal congregations have zero adult formation (classes or small groups, that is). Too often, we fail our goal of offering lifelong formation, and of course people can't take part in something that isn't offered. Experience suggests that great adult formation is transformative, for participants who take part in offerings and for whole congregations. This would be a good thing to think about for our church. We cannot imagine our church has much of a future if our lay leaders are operating with an eighth-grade spiritual education. These are solvable problems. Clergy can find programs that work even without much prep time, if time is the issue. Or even better, clergy can empower lay leaders to take up the helm of small groups and courses. We need to take more seriously our lifelong formation. All of us. (That goes for clergy too, who should be engaging in regular professional development and education programs.)
That editorial digression aside, here are the resolutions.
A041: Amend Canon I.17. Likely vote: YES, but hoping for an amendment.
As you'll see in a moment, there are proposals afoot to remove confirmation as a requirement for many positions in the church. Partly to replace confirmation (where it was, falsely, assumed that people would universally learn stuff in preparation for the laying on of hands) this change would require instruction in the "history, structure and governance" of the Episcopal Church for many lay leadership positions. In general, I whole-heartedly support the thinking here. I'll leave comments on confirmation to the next resolution, but requiring specific formation in Episcopal Church distinctives makes sense. However, I'd much prefer to see something added about Anglican theology here. Sure, we can't cover the fullness of our theology, but then again, we're not going to do a full church history course. Surely we could require some basics in our sources of authority and in our views about grace, sanctification, and soteriology. At the very least, I'd like to think that vestry members would know a bit more about "scripture, tradition, and reason" than the bumper sticker slogan of the three-legged stool.
A042: Amend Canons: Canon I.1.1(b), Canon I.1.2(a), Canon I.2.5, Canon I.4.1(c), Canon I.4.3(d), Canon I.9.7, Canon III.4.1, Canon IV.17.3. Likely vote: YES.
This gets rid of confirmation as a requirement for pretty much every church office. If passed, office-holders will need to be "adult communicants" as opposed to "confirmed adult communicants." I'm glad to support this, which simply makes real our teaching of 30+ years that baptism is full and complete initiation into the Body of Christ. If there is concern that people will somehow sneak into major leadership, see the previous resolution, which requires some formation in Episcopal identity and polity. That's actually a higher standard than we have now, since lots of folks are confirmed with almost no preparation. Please note: this does NOT get rid of confirmation as a sacramental rite of the church. Clergy will still encourage people to experience the grace of confirmation, I hope. The passage of this resolution helps us to clarify and amplify our baptismal theology. I'm all for that.
UPDATE: See my subsequent post, "Further thoughts on Confirmation."
A043: Amend Constitution Article I, Section 4. Likely vote: YES.
This is just like the previous resolution, but it makes a similar change in the constitution. Because changes to the constitution require two successive General Conventions for approval, this change is broken into a separate resolution. The canonical changes can be approved right away in one General Convention.
A044: Review Confirmation Requirements in Title III. Likely vote: YES, with some reluctance.
In the previous changes, the process leading to ordination is left untouched. That is, people seeking ordination as deacons, priests, and bishops would still need to be confirmed. This resolution asks that a study group look at the question of whether we should eliminate the requirement for confirmation for Holy Orders. On the one hand, I think it makes sense to study this. In some ways, it would make sense to get rid of the requirement for confirmation, period. On the other hand, this will have some pretty serious ramifications for relations with other Anglican churches and with other churches as well. Why touch this third rail? Why not maintain the requirement? Left to my own devices, I'd leave this one alone for now, since we have plenty on our plate as a church, and relations are already tense on things that we consider more essential. In other words, I don't think this is a ditch to die in. But I end up thinking a study might help clarify these questions — so long as the conclusion is not foregone before the study begins.
A045: Express Gratitude to the Consultation on Baptismal Theology. Likely vote: NO.
I am grateful for every lay person and clergy person who serves the church. And yet we do not need to pass resolutions thanking them. This resolution thanks the Consultation on Baptismal Theology. Surely they have done great work. But can't our Presiding Officers send them a lovely letter, instead of involving 1,000 people in a token resolution? To be crystal clear: my only reluctance is the need to streamline General Convention and keep us focused on the things we MUST do. I have nothing but appreciation for the Consultation on Baptismal Theology. Thanks, folks!
A046: Commend Continued Development of Lifelong Christian Formation. Likely vote: NO.
This resolution commends a bunch of organizations and programs. For reasons similar to the previous resolution, I am resistant to resolutions that simply express "yay, you!" Moreover, I wonder when it stops. This one thanks NAECD (now called Forma). They're awesome. But does this mean the SCLM needs to bring forward a resolution to thank the Vergers' Guild? Or Altar Guilds? Particularly troublesome, I worry that certain programs are called out, while others are not. We do not need to use resolutions for awareness raising, particularly of church programs. This is not the venue. If passage of this is intended to influence the budget (which would be good, since formation was gutted in the draft budget), then here again, there is a process to make our priorities known to the Program, Budget, and Finance folks. This is not that. While I agree with every single thing this resolution says, I think its passage is not helpful when we step back and look at the whole picture.
A047: Develop an Electronic Learning Community. Likely vote: NO, but I am willing to be persuaded otherwise.
This one asks for an budget line of $210,000 to build an electronic learning community to share resources — and knowledge about resources — among Christian formation leaders. I completely agree with this aim. However, as I read what is written here, it seems to me that a simple blog or even social media could do everything that's listed. I do not see the need for a specialized technology investment. I'd rather see a group of folks do something grassroots this triennium. Then if they need resources to support their work, let's get them what they need. A more entrepreneurial approach will yield a cost-effective, highly collaborative solution. That all said, if I'm missing something, I am eager to be instructed about this (or any other resolution, for that matter).