Blogging "Blue": Bishops' committees
This is a third in a series of posts on the "Blue" Book for General Convention 2012. Previously, I blogged about the budget. Next up is deputies' committees. Please see my index of General Convention 2012 resolutions, with a summary of the 7WD position on them.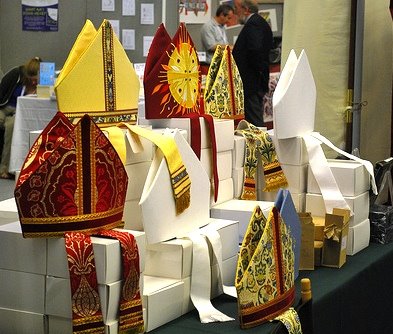 Two of the committees from the House of Bishops have reports in the "Blue" Book. Only one of those committees has included a resolution. Good ol' A008 comes from the House of Bishops Committee on Pastoral Development.
A008: Fund the House of Bishops Committee on Pastoral Development. Likely vote: YES.
Basically, these folks work to build community among our bishops and their spouses. Bishops spend most of their time without the support of nearby colleagues, so I think it's good to encourage community among their number. I don't quite understand why this committee needs $51,000, but I'll trust that they are careful stewards of the money. Seems to me it might be good to have someone on the committee who is not a bishop or a bishop's spouse, but again I have to figure the people who think this stuff up know their stuff. One can't go through life in full-time suspicion.
Report from the House of Bishops Theology Committee
There's no resolution here, but I think the report deserves comment. These bishops do some good work on important issues facing the church. At the moment, they are looking at some theological issues around the Eucharist and confirmation. They have written about same-sex blessings. Most notably, they issued a Pastoral Teaching on the Environment. Our church could use more theological reflection and teaching, and we should welcome it from most any quarter. Our bishops are exercising their particular vocational charism when they do this, and so I commend this group. As bonus, they don't even ask for any money. What's not to like?