A pulpit for our time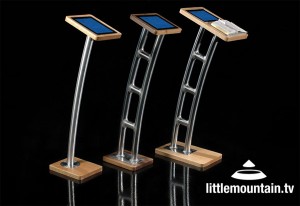 If Forward Movement decided to sell liturgical furniture, this is the sort of thing we'd offer. A company called Little Mountain Productions is now selling the iPulpit. You guessed it. It's a pulpit for your iPad. When I preach from a text, this is exactly how I do it: using my iPad. Paper is so 2009.
Of course, for Episcopalians, that giant Bible with all the highlighting is going to be a prayer book / hymnal combo. And more would probably sell if they could figure out how to stick an iPad into an eagle lectern or something.
What tickles my funny bone is that the URL for this thing is "…gamestands.html". Game stands. But all kidding aside, using an iPad for preaching is no game. It offers few advantages over paper, except that I won't get pages out of order. I also like that I can tweak my sermon in my office between services, and the iPad is automagically updated. This seems to me the way preaching should work in our tech age.
One of these days, I'll rant more about preaching and rave about using my tablet for preaching and teaching.
Wave of the giant Bible to pastorgear.com and a certain bishop who sent me this link. Also, Forward Movement is not going to sell furniture. That references was for illustrative and humor purposes only.