Lent Madness!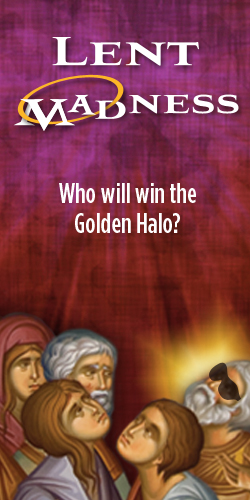 As many of you will know by now, I'm involved with Lent Madness this year. What's Lent Madness, you say? It's a fun-filled way to learn a bit about saints. Inspired by college baskbetball's March Madness, in Lent Madness 32 saints battle it out as readers vote for their favorite saints. Only one saint will be awarded the coveted Golden Halo!
Here's the thing. Lent Madness was created by my archnemesis, Fr. Tim Schenck. Of course, everyone has a good idea now and then. So why am I working with him? Remember the old saying: keep your friends close, and your archnemesis closer.
Actually, Forward Movement is partnering with Tim this year to kick Lent Madness up a notch. We have a great website set up and a panel of eight excellent celebrity bloggers. It's going to be terrific fun. And people will get interested in the saints and their stories, which is what counts. Already, someone I know is taking another look at the Episcopal Church because of Lent Madness. "My church would never loosen up and do something like that. And yet you are simply sharing the Christian story in a new way." Precisely.
That's why Forward Movement is in. I'm all about us finding new ways to engage people as disciples. Back in 1935, pamphlets were cutting edge. Today it's Lent Madness. In a couple of months, it's smartphone apps. This is almost too fun.