The lost art of preaching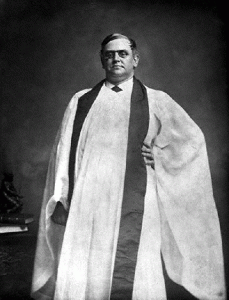 Today the church remembers Phillips Brooks, famously rector of Trinity Church, Copley Square in Boston and late bishop of Massachusetts. More than these things, he is remembered as a phenomenal preacher. Here's a bit from the NY Times:
Long before 12 o'clock yesterday every seat was occupied in Trinity Church, and when the Rev. Phillips Brooks ascended the pulpit at five minutes after the noon hour, the space set apart for standing room was entirely preempted. For the first time in the history of the parish the public were permitted to occupy the choir stalls in the chancel, while hundreds were turned away, unable to gain admission to the church.
When's the last time you heard an Episcopal preacher good enough to get that kind of result? Brooks didn't pack them in because of his great style; he was pretty widely panned in the art of sermon delivery, known for rapid-fire speech more so than any kind of booming voice.
Laura Toepfer has some thoughtful reflections on preaching and Phillips Brooks on her blog today. Check it out.
I'm still pondering the abysmal state of preaching in our church today. At some point, I'll have things to say here on 7WD. Until then, please share your thoughts, hopes, and ideas for great preaching. We could all use some of it.
Wave of the preaching bands to Creedal Christian for the NY Times quote. Creedal Christian also has some fantastic Brooks quotes.