The plain meaning of texts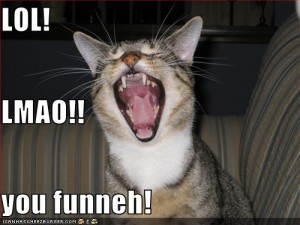 Not long ago, a reader here on 7WD left a disturbing comment. She wrote, "…this still made me actually laugh out loud. Not the LOL kind, but the real kind." Get that, she was undermining the plain meaning of a text messaging shorthand. LOL = "Laugh out loud," right? Wrong.
This commenter treats LOL as if it shouldn't be taken literally. Well, let me tell you, dear reader, if I can't trust every single thing I read on the internets or on my phone, I have a big problem. There's a time-honored and well tested approach to this kind of problem, and it's the one I intend to pursue.
Schism. It's decisive, and it's certainly going to be good for me.
I will simply declare people who use text abbreviations non-literally as heretics. Based on my own arbitrary criteria, I will divide the internet into the LOLs and the LMAOs. Of course, the latter stands for Laughing Metaphorically: Applied Obfuscation. While I will continue to receive page visitors from the LMAOs, I will only link to LOLs. If a LMAO wants to stop by, that's great. But only LOLs will get good treatment from me.
More important, in my world, page ranking and blog ratings will be based only on the LOL universe. This means that 7WD will be the leading site on the (LOL) internet. While on the LMAO internet, technorati says I'm not even in the top 20,000, in the LOL internet, I'll be #1. Awesome.
I'll appoint myself as a chief or "prelate" of the LOL internet. Soon I will find reason to travel around the world in business class to attend various conferences. I'll probably call my new friends BRBs (Blessed Real-speaking Bloggers). Sure, the alphabet soup of who is in and out seems confusing, but it makes sense to those of us in the LOL internet.
So basically, what will have happened is that I will become a bigger fish in my arbitrarily smaller pond. And I get to declare who is a sheep and who is a goat based on my own criteria. Should be a hoot.
Of course, nothing like this would ever happen in real life. LOL.
The photo is my media consultant (because all schismatics need a media consultant). Courtesy of cheezburger.com.