Walking with God Day by Day
We're only eight days into this new year, though it seems as if it's been months since Christmas Day. Each year for the past few years, Forward Movement has published a book of meditations for use through the year. These meditations are not linked to the lectionary like Forward Day by Day. In these books, authors have freedom to connect the stories of their lives, of our lives, to the life of following Jesus. This year's book is called Walking with God Day by Day: A Year of Meditations.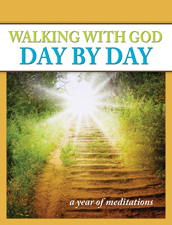 You can get the book as a…regular paper book. It's also available as an ebook for Kindle or Nook. Of course, part of my reason for telling you this is that I'd love it if we sold zillions of copies and Forward Movement had additional resources for new initiatives. But the bigger reason is that the meditations are really great. They might be helpful to you. Authors include some folks you might know from the blogosphere, including Penny Nash, Tim Schenck, Heidi Shott, Lauren Stanley, and yours truly.
To give you a flavor, here is today's meditation by Betsy Rogers, a Christian education leader and editor from Belleville, IL. She also serves on the Forward Movement board.
The meditation for January 8:
Refinishing wood
Few tasks give me more satisfaction than refinishing wood. To take a beaten-up old chair or chest and strip it, repair it, sand it, and rub a new finish into it coat by coat is deeply gratifying.
My most recent project was a set of dining room chairs. Though well-built of oak and maple, they had been covered with truly ugly paint at least twice, once in red and black and later in green. Naugahyde— naugahyde!—covered the cane seats.
Somehow I knew there were handsome chairs under all that mess. I peeled away the naugahyde, removed the broken canes, and delivered the chairs for stripping and recaning. Then began the long process of cleaning and sanding—and sanding—and refinishing. Coat by coat, I rubbed in the oil, buffed it with cloth, rubbed it again with fine steel wool, and then applied more oil. Coat by coat, the beautiful grain of the oak and maple emerged, and the clarity of the wood deepened. It seemed I could look right down into it.
Scars remain, but six handsome chairs now testify to the beauty that had lain hidden all those years.
As with these chairs, the accretions of the years often obscure the beauty God creates in us. We bear wounds. We are disfigured by sin. We paint ourselves with various guises. But God never accepts this false self. Day by day, year by year, he sands down our rough spots, repairs our brokenness, and rubs healing balm into us. God never stops working on us.
This is sanctification: God knows that precious children lie beneath our battered surfaces, and he will bring us forth.
The quotation is Copyright 2011 Forward Movement. All rights reserved. Used by permission.
If you read the book, let me know what you think. And please write a review on Amazon or Barnes & Noble.