Finally, a coffee cup fit for America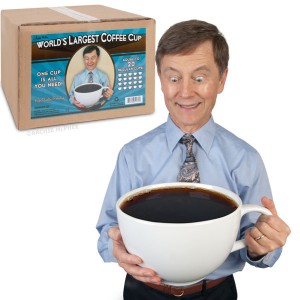 If nothing else, Americans like big things. We drive giant cars. We live in big houses. And now we can have a big cup of coffee. A really big cup of coffee. This one leapfrogs even the efforts of Starbucks to coin ridiculous words to describe ever-larger cups of brew.
Let the buyer beware. You'll have to monitor your consumption carefully, since only a few of these monster cups will kill you. Each one of these babies holds 20 regular cups of coffee, so make sure you know how much coffee it takes to kill you. I don't think there's a website to find out how much coffee it takes to make your eyes go gaga like the dude in this photo, but be wary of that too.
Consider this cup. It's ridiculously large. It's impractical. It's potentially fatal. In other words, it fits right in with American patterns of consumption.
Buy yours at Archie McPhee. Wave of the coffee filter to Likecool.
Blog note: my archnemesis is always going on about coffee on his blog, and I didn't want him to have an advantage. By my count, we've each written eight posts (mine, his) devoted to coffee. Until now. This one puts me ahead.