Of broken things in the church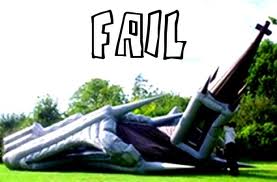 Not long ago, a Facebook friend wrote that the General Ordination Exam is "the most idiotic thing" in the Episcopal Church. I disagree. Last year I wrote a blog post in which I asserted that the GOE, while imperfect, is useful. Anyway, in the comments on the Facebook post, I suggested some other things more flawed or broken than the GOE, trying to prove that it's not "the most idiotic thing" around. Among the items on my list, "deanery meetings."
As a result of this conversation, which went on for several comments, a colleague sent me a list of ten broken things in the Episcopal Church, each of which is considerably more problematic than the GOE. So, dear reader, I'd like to know if you agree with this list. What would you add or remove? What is broken — and how can these things be fixed? By the way, I mention all this because I think we have to be honest about our shortcomings. Many of these issues are easily addressed, and doing so would make our church stronger.
Anyway, here's the list. Her list is in bold and my comments follow.
Our deployment process.
This one was on my short list. Basically, the problem is that the median tenure of a rector in the Episcopal Church is about five years. The search process takes 18 months for most places. That means that many congregations end up without settled clergy leadership for 1/3 of the time. Those delays suck the momentum away. I've written about this before, but basically we need to increase the median tenure and massively shorten the transition time. There are plenty of ways to fix this, and our complacency is the only excuse for not making this one go away.
Our compensation system. Associates don't work half as much as rectors. Priests in wealthy parishes don't work twice as much as those in rural parishes. Let's get a standard, toss in some cost of living and length of service factors, and call it a day.
Agreed. Our current system sends newly ordained people into some of the most challenging parishes with few resources. Meanwhile, the economics of clergy compensation encourage many pastorally-minded clergy to become program-sized rectors, where their skills are simply not a good match with the needs of the community.
The Church of England pays clergy assuming that a priest is a priest is a priest. Curates and vicars make the same. Rural benefice and urban fancy place gets the same. Newly ordained and twenty-year service gets the same. That system has some problems, but they're less than the problems by our system here in the US. In an everyone-is-paid-the-same system, clergy are less influenced by a paycheck in discerning where they might be called. And, let's face it, it's a more just system.
Our understanding of membership. We basically don't have one. Let's decide what we think it actually means to be a member of a church and make that part of our canons (national and diocesan) and bylaws. We should at least pretend to take membership seriously and require some level of commitment.
The churchwide canons have some things to say, but they're quite vague. Unless one keeps worship attendance records, how would you know if someone has received Holy Communion three times in the last year. Canons are quiet about transfers and people who attend multiple places, and any number of other issues. For both theological and practical reasons, I think we need some clarification here. Baptisms is theologically said to be full and complete initiation, but should there be additional requirements for status as an active member of a congregation? I think so.
Confirmation. A rite seeking a theology. Is Confirmation just about connecting us with bishops? Is it an adult affirmation of faith? Let's figure out what we think it is and get serious about it. Or get rid of it. I don't care, I'm just tired of trying to make people care about something that the Church is so unclear about.
Confirmation could have profound meaning, but my colleague is right that it is problematic now. The prayer book has the sorted out, but in practice too many bishops, clergy, and lay persons treat it as the requirement that it was under previous canons and prayer books. So you create this Frankenstein of a rite/theology. Clarity would be helpful: confirmation is an (optionaL) opportunity to make a mature profession of the faith and to confirm the grace of the Holy Spirit in one's life. Another option would be to amplify the chrismation in the baptismal rite and essentially dispense with confirmation except for those who were baptized under different rites. Or there are other ways to untangle this hairball.
Communion without baptism. Our prayer book actually says something about this. Parishes, priests, and often bishops blithely ignore it. They want to be "welcoming" and "inclusive." Fine. If we want to change our worship, let's actually take the time and energy to do thoughtful reflection about what it means and what it should look like. I'm all for being welcoming and inclusive. Let's just decide to do it together.
I would have put this one at the top of the list. Inviting the unbaptized to receive Holy Communion is not the best way to be welcoming. I will believe the hospitality argument when I encounter a parish which routinely invites newcomers into people's homes. On the first Sunday. That would be hospitable. It is ludicrous to hear many of the same people go on about the Baptismal Covenant and then assert that the Eucharist is for all. It is not coherent, and it smacks tradition in the face. Now, I am open to the possibility of reordering our theological and liturgical life to make room for all people at the Holy Table, but it is not something to be done casually. And certainly we shouldn't be disciplining clergy for violating some canons while we ignore infractions of others. (I'll stop here. This needs to be another blog post.)
Anti-intellectualism. It is not a bad thing if our clergy (or your laity, for that matter) are intelligent, thoughtful, well spoken and coherent writers. It's not the only qualification that matters, but it is also not the opposite of, or exclusive of, pastoral care and sensitivity.
Yes. Preach on. In short words, please.
The tab on the new TEC website under "What we believe" that says "Christ-focused." It is idiotic on a number of levels (grammatically, etc.), not least of which is the fact that I was under the impression we were a Trinitarian church. Sigh.
Hmm. This one doesn't concern me so much. The first item in that list is "Baptismal Covenant" which includes the (Trinitarian) Apostles' Creed. Also, I think it's fair to proclaim faith in a triune God as we follow Jesus. To be sure, the Holy Spirit often gets short shrift in the Episcopal Church, but I'm not sure that a tab on the Episcopal Church website is the problem or the solution.
Holy Women, Holy Men (if this list were in numerical order, this would be higher up there).
Yes. This one has been covered here on 7WD.
The state of preaching in the church.
Yes. One of the leading causes of our decline, I believe, is woefully inadequate preaching. The sermon is not the place to comment on the news. The sermon is not the place to make people feel good about themselves. The sermon not the place to show how many movies the preacher has seen or how many books the preacher has read. No, the sermon is the place to proclaim the astonishing news of what God has done for us in Jesus Christ. The sermon is to call us to respond to that Good News in our lives. Sermons should be biblical, steeped in the church's tradition, and well thought out. The language should be accessible equally by those who have attended church for decades and by those whose first time in worship is this very moment. Lots to do here. I think I need to blog about this.
Colored Advent candles. Yes, you've converted me, and they now bug me to no end. And I'm running out of time and steam here.
My colleague refers to my effort to use plain, white candles in an Advent wreath once. (I was scolded by a parishioner for "ruining Advent.") We don't use red candles on the Day of Pentecost. We don't use green candles in the summer. Why do we think these particular candles need to be colored? The Advent wreath is really best used as a home devotion, where the color makes sense given the lack of vestments. But in a church, there are blue or purple or rose vestments and altar hangings. (Don't get me started on people who use "Sarum blue" for Advent and then put a "pink" candle in for the third Sunday. Sigh.)
Well, dear reader, what would you add? What would you take away? I'm interested in constructive solutions to articulated problems. That's how we'll get a better church.