Holy women, holy men? Whatever.
My move and transition continue to use most of my time, so I continue to neglect 7WD. Sorry about that. Anyway, this post is an effort to address my writing assignment. I have mentioned — several times — my aversion to Holy Women, Holy Men. For those of you who don't pay attention to such things, it's a revised list of saintly commemorations for the Episcopal Church. If you didn't know that, you'll probably want to move right along.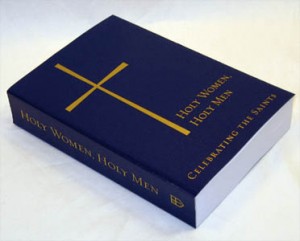 To recap, General Convention 2006 took action asking for some revisions to our sanctoral kalendar. The Standing Commission on Liturgy and Music did its thing over the triennium, arriving at GC 2009 with a number of things, including HWHM. This expanded our list of commemorations from a lot to a bazillion. (Hey, I could put numbers in here, but I'm trying to catch up on my backlog, hence the unsubstantiated rant.)
There are a number of problems, in my view, with HWHM. For the record, I voted against it at General Convention. And yet, because it is a trial liturgy of the church, I support its use at Forward Movement (check our Forward Day by Day Facebook page to see how we link to its kalendar daily). The problems fall into two categories: content and process. Let's start with content.
The SCLM brought GC 2009 a set of criteria for inclusion in our kalendar. It's a pretty good (though not perfect) articulation of how one might choose who to include in our list of commemorations. The problem is that the SCLM ignored their own criteria in choosing people for HWHM. For example, there is a waiting period after someone has died before they should be included in our kalendar. Several people are included in this kalendar despite relatively recent deaths. Of course, we know that history usually takes a while to come into focus. Without a waiting period of a couple of generations, we risk including people whom we later regret including.
There are people who renounced their Christian faith as well as at least one Jew on the list. Now, it goes without saying that every person is holy by virtue of having been created in God's image. There are lots of "good" people in the world and in history, and many of these good people are or were not Christians. But to say that someone is noteworthy, or good, or even holy, is not to say that they should be in our kalendar. This should be reserved to those in whose lives Christ's light shines forth. This understanding of the saints is as old as the church. Please note that I am not denigrating non-Christians. Gandhi is an amazing witness of powerful love, and we might give thanks for his witness. But he would not be appropriately commemorated in our kalendar.
And we come to the next point. There are a number of Christians (or at least nominal Christians) on the list who did some pretty great things, but whose grace-filled revelation of Christ's light is unclear. For example: Henry Purcell and  John LaFarge did some amazing things with music and art. But does that mean they should be commemorated in our kalendar? Hardly. We would need examples of Purcell or LaFarge and an understanding by them — or their contemporaries — that their art was a revelation and not merely a human talent. Just because you can design a great building or write a nifty anthem does not mean you are a saint.
There are people on the kalendar (John XIII is one example) who are not Anglican and whose own traditions do not commemorate them as saints. There are others (John Calvin would be one) many of whose contemporary Anglicans would have understood to be heretics.
Others are puzzlingly missing. Where is King Charles I? He is the one person who has been declared a saint (in effect) by the Church of England — and many other provinces of the Communion. There is a devotional society in his honor active in this country. But he doesn't make the cut. Or where is Bishop Frank Weston? He's another person with a worldwide following, and who continues to impact preaching and practice in many parishes. He's not there.
When you get done looking at the list, it begins to look like a caricature of a kalendar. It can have the appearance of a list of GOOD people — judging "good" by today's standards — who have been carefully balanced for political correctness. In the effort to please a whole committee, the list of people is gigantic. There are very few feria days left. You can almost hear the discussion. We need more women! People of color! Deacons! Indigenous people! Lay people!
Beyond the content, I am concerned about the process. In Anaheim, a number of objections were raised. "John Muir? Cool guy, but does he belong on our kalendar?" "Why so many people?" We were told something like this by the SCLM:
General Convention asked us to do this work! Please don't complain about what you told us to do. We were merely following your orders. People have worked very, very hard on all this. Please don't upset the apple cart by challenging their work at this late date. We will have a three-year period to "live with" this kalendar. Then we can revise it based on your feedback. But you really need to pass this just as we've given it to you. It's too complicated — and too much work has gone into it — for you to do any revision.
Of course, the resolution enabling this work was written by…the SCLM. So while it is true that General Convention asked for the work, the parameters were set by the SCLM. Deputies and bishops should be able to propose revisions on any part of any legislation that comes before General Convention. My worry is that in Indianapolis in 2012, we'll hear, "See, you have been using this for three years. Please don't ask for revisions, because it has already been in use."
By the way, the SCLM has a blog where you used to be able to leave comments about HWHM. In a recent entry, they write, "While the official period of trial use has concluded, you may continue to use the resource." Of course, the period of trial use continues right up through General Convention 2012. What they really mean to say is, "We have completed the year in which we would receive your comments." I hope you will contact the SCLM (names here) or your deputation (names here) or bishop with your thoughts about HWHM. In our church, it is always OK to communicate with our elected and appointed leaders.
Personally, I'd like to send the whole thing back to the drawing board. Let's use the criteria proposed by SCLM to make some minor tweaks to Lesser Feasts and Fasts. Let's take great care in who gets added to our kalendar so that we are making long-term decisions, not blowing to and fro with every wind of doctrine or political correctness.
I happen to run a publishing company. If someone wants to present a manuscript for 365 "holy people" of the day, I think we'd be pretty interested in publishing that for personal and corporate use. But that's a whole different kettle of fish than a wholesale modification of the church's official kalendar. I'm sure there are others who would publish this resources and many who would find it useful.
Some of the work in HWHM is quite good, and we should make good use of it. But in many places it feels rushed through, perhaps not receiving the attention it should have received due to the sheer scope of the project. I am grateful for the work of liturgical scholars and liturgists on the SCLM, but I respectfully hope HWHM will be shelved for a while until its ready for prime time.