To reinvigorate the life of the Church
As many 7WD readers know, I have been discerning where I might be called to serve next. Well, I am delighted to announce that I have accepted a call to serve as the Executive Director of Forward Movement. You can read the story on Episcopal News Service. For those of you who think that Forward Movement is synonymous with Forward Day by Day, let me tell you there is a lot more now and even more to come.
In no particular order, here are some reasons I am excited about this call and about the future of Forward Movement.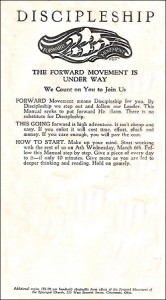 The origin of Forward Movement is also the key to its vibrant future. You can read the whole tale on the Forward Movement website. Back in the 1930s, the Episcopal Church was hurting. A bunch of lay people and clergy worked (initially outside the bounds of General Convention) to contribute to the financial need of the church and then to breathe life into the Church. Simply put, the Church had forgotten why it exists. Sound familiar? Anyway, soon there was a "forward movement" at work — with materials and gatherings "to reinvigorate the life of the Episcopal Church".
Our church needs this today, as we all need continual renewal. My hope is the Forward Movement will once again be on the vanguard of producing materials and maybe even holding gatherings that will equip, empower, and inspire people to exercise the fullness of their ministry.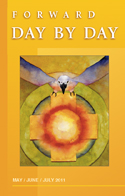 There are 300,000 dedicated readers already. The flagship publication of Forward Movement is, of course, Forward Day by Day. It goes to parishes, prisons, hospitals, elder care facilities, and individual subscribers. It's available in Spanish, in large print, and in media for visually impaired readers. And these readers are dedicated. Second to Altar Guilds, the readers of Forward Day by Day are the folks not to be trifled with in parish ministry. On the occasions when our parish administrator forgot to put out the next quarter's copies, our phones rang off the hook. People love their Forward Day by Day. My hope is to continue to provide what clearly nourishes people, and to increase the engagement of these readers. How might the church itself be enriched if these readers are further enlivened?
I'll be working with a great Board and a dedicated staff. Forward Movement is blessed to be led by a Board of diverse and talented people from across the Church. The Presiding Bishop is the President of Forward Movement, though I suspect she will not have a lot of time to be actively involved on a regular basis. At the Forward Movement office in Cincinnati, there is a dedicated and talented group of staff that I look forward to getting to know and serving with. They are, I think, looking forward to our adventure together.
I am about to lead an organization that has had good leadership. For the last few years, the Rev'd Richard ("Dick") Schmidt has led Forward Movement, focusing especially on editorial quality. He is the latest in a string of amazing folks, each of whom has brought a particular contribution to the organization. I'll pray for the wisdom and grace to join this company of able leaders. Dick has also been incredibly hospitable to Sherilyn (my partner) and me as we have contemplated this transition.
We are looking forward to settling into a new city. Cincinnati is a lovely city, a midwestern "river town" nestled in green hills. The church there is vibrant. It will be hard to decide where I'll hang by ecclesiastical hat (it's a Canterbury cap, not a biretta). Already we have found a number of great places to eat, good museums, stunning parks, and other cultural amenities. If you know anything about Cincinnati, I welcome your recommendations.
The time is ripe for digital media and new channels for delivery. It's easier than ever to create mobile apps now, and the potential audience is ever larger. Look for some resources for daily prayer (including Forward Day by Day) on your iPhone soon. Already you can read each day's meditation from Forward Day by Day on the Forward Movement website. I expect we'll get some select publications available for Kindle and other e-readers soon. There are other ideas.
I will enjoy seeing the wider church. One of my new tasks will be speaking and listening throughout the wider church. It will be great to visit parishes, diocesan gatherings, and seminaries throughout the Episcopal Church. My hope is to travel a good bit when I first start; I want to hear from Episcopalians who read Forward Movement publications as well as people who have no idea what Forward Movement is. What are people hungry for? What does the Church need?
Some of the most successful authors for Forward Day by Day have been folks who were incarcerated inmates, and many readers are in prison cells. I expect to visit some readers and authors in prisons as well. That is always sobering, humbling, and often inspiring. (If you've never been inside a prison, you should go sometime. It will change you.)
My hope is to offer a Christ-centered, mission-driven voice within the church. We Episcopalians love to fight (usually about second- or third-order matters). We are prone to lose sight of what matters as we prioritize structure over vocation. Bonnie Anderson got this right in her recent Kellogg Lectures. Forward Movement has not gotten itself embroiled in the controversies d'jour and I intend to keep it that way. Let's talk about Jesus and what he means in our lives. That should give us enough to talk about.
I will be running an Agency. There are several official agencies of the Episcopal Church, of which Forward Movement is one. Next time my espresso is taking too long to make, I'll say to the barista — almost under my breath — "wait until I tell people back at The Agency about this". If they assume I'm part of the CIA, well so be it.
Well, dear readers, I could go on. That will give you a taste of the varieties of my excitement (and questionable humor). Please write or leave a comment here with your suggestions, questions, or criticisms for Forward Movement. One of my first tasks is to hire a Managing Editor, so if you know of someone who might be up for this adventure, have them take a look at the job description. (Note that it will take two of us to continue Dick Schmidt's work!)
You can expect Seven whole days to continue. And now that I'm not looking for a job, I'll finally get to my backlog of unblogged material. In every way, it's time to move forward!