A place for questions and faith
Chris Yaw asked me to write a few words for a Facebook group (3,000 members and growing!) called "People Who Are Rather Fond of the Episcopal Church". If you are on Facebook, go join the group and receive occasional messages and take part in good discussions. For those who aren't on Facebook, here's what I wrote: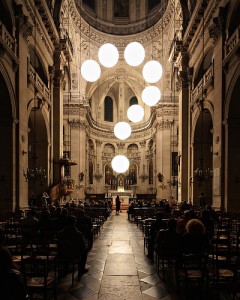 People of faith have certainly had plenty to ponder lately. Between deadly storms, assassinated terrorists, and the spectacle of the royal wedding witnessed by two billion people (though it took place in a lovely and historic abbey, not everyone agrees on how God might be at work there…).
In the midst of this swirl, Thomas the Apostle walks onto the stage on the Sunday after Easter. Most people call him "Doubting Thomas" but I like to call him "Good Question Thomas." He does what many would be afraid to do: he asks the obvious question. How do we know? How do we know that Jesus was raised from the dead? How do we know that God's love is really stronger than death?
It is precisely in these moments that I am grateful for the Episcopal Church. We offer a place where it's OK to ask questions. This is not a church where you have to nod along as if you understand everything, as if you agree with every word. You can ask obvious questions. You can ask difficult questions. You can even ask painful questions.
Thomas's question was, I think, courageous. And to his credit, when confronted with the truth that Jesus was raised from the dead and that God's love really is stronger than death, Thomas believed. My Lord and my God! He asked the question with an open mind, and he kept his mind open in discernment and inquiry.
I love that when we waver in our faith, we can ask questions. When we're not sure where God fits into the picture, we can ask questions. As much as that, I love that the Episcopal Church is a place where the sacraments are offered beautifully, where people are fed fully, and where all people are welcomed openly. It's not hard to find God if we are willing to look.
Let us have the courage, like Thomas, to bring our questions. And like Thomas, let us keep our minds open to see God at work all around us. My Lord and my God!
Image from flickr user Dom Dada.