Blogtastic Lent or Lentastic blogs?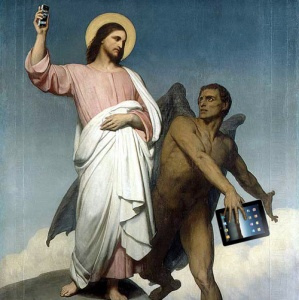 Quite a few of my friends are giving up social media or the Internet for Lent. I can certainly understand that — these things take time, and they might well take us away from what really matters. Of course, there are other views. Penny Nash puts it this way: "A Christian communicator who gives up posting on Facebook, Tweeting, or writing online during Lent is a Christian who has decided not to talk about God, about Jesus, about faith, during the church's season expressly dedicated to preparing for the greatest event in history, the foundation of our faith, the hope of our salvation, the resurrection of our savior Jesus Christ." While I think she's right, I also will support those who feel they need to reclaim this space in their lives. After all, we can't give to others if our cup is empty.
I purposely waited until today to post this, because I didn't want my internet-abstaining friends to think I was criticizing them, or even trying to tempt them back onto the internets. So if you're reading this (and probably saw the link on Facebook or Twitter), here's a feast of Lentastic blogs or ways to have a blogtastic Lent.
First, in the spirit of shameless self promotion, I hope you come around 7WD often. In past years, I've posted poetry or music every day of Lent. I decided to be a bit more theological this year. Starting tomorrow, I'll post an essay on one of the 39 Articles every day of Lent (though not on Sundays). While I intend to give a nod to the historical reality of the article d'jour, I'm mostly going to use them as a launching point for a meditation (or rant) on the subject of the day's article.
Sneak preview: it's easy for people to consider the 39 Articles merely relics — and quaint ones at that — of an irrelevant past. That's an unfortunate symptom of what ails Anglicanism in particular and Christianity in general: we think it's all about us, and we're quick to reject anything that doesn't affirm who are already know ourselves to be. Bah. It's all about Jesus. Now, to be sure, the 39 Articles are NOT all about Jesus. But they were, when they were written, an expression of the core of Anglican belief. And that means that they express something vital about our identity as Anglican Christians. The 39 Articles, even in their own right, deserve our attention today. We can learn from them and grow through what they teach us.
Of course, in the spirit of what I've said, it's not all about 7WD. Have a look around the interwebs. In particular, stop by the internet home of my blogging archnemesis, Tim Schenck. He's offering another Lent Madness this year, in which saints duke it out against one another for the coveted Golden Halo. Each day, you'll get to vote on which saint should get the prize. It's a fun way to learn a bit more about the lives of those who have gone before. Sadly, George Herbert was not invited back this year to defend his halo.
Visit the Episcopal Cafe regularly, especially the Daily Episcopalian. Lots of great stuff there, including an essay for today by Sara Miles.
You'll find loads of powerful writing at Beliefnet, particularly their Lent resources page.
My point is this: sure, there's plenty of garbage on the interwebs and you can lose lots of time doing nothing edifying online. But there is also stuff hither and yon which can bring you closer to the Kingdom of God. So this Lent, why not use your journey to explore some new territory online — go to some places that will strengthen you for your Lenten pilgrimage?
If you have more suggestions for blogtastic Lenten practice or Lentastic blogs, please share them.