Different means, same story
This commentary appears in the current (and last ever) issue of Episcopal News Monthly, the monthly newspaper of the Episcopal Church. I thought it might get posted over at ENS, but it hasn't appeared there. Since a few people have asked, here's my column about church communication for our time.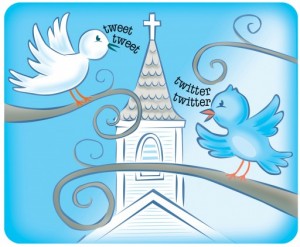 My conversion to the idea that the church might embrace Facebook, Twitter, and texting came in a surprising way. I was standing in the back of a vast room in Columbus, Ohio, at General Convention 2006. Like lots of Episcopalians, I like to be in the back of the room when I go to church, and so I was lurking in the back of one of the daily services. When it was time for the passing of the peace, my cell phone beeped. Oops! Forgot to silence it. As I looked down, I saw the text message from a friend. "Peace!" Perfect. A good friend was somewhere else in the room, and he knew I'd be there too. We just couldn't see each other. Still, we exchanged the peace via text message.
No doubt the church fathers (and mothers) would be a bit horrified. But then, we live in a different world now. My unseen friend used technology to do something that would have been impossible if we relied on the usual handshake or hug.
Not long after that, I posted something on my blog about a magazine article featuring our then-new Presiding Bishop. One of my former co-workers happened to read it. "I don't go to church," he said, "but if I were going to try a church, I think yours sounds pretty cool." A few weeks after that, some things changed in his life. Soon he was attending his local Episcopal Church.
As I reflected on these starting encounters between ancient liturgy, the practice of evangelism, and modern technology, I began to wonder in what other ways we might be called to rethink our ideas about technology, church, and relationships.
In the parish I serve, we were going through some old documents recently, getting ready to send some things to our diocesan archives. I learned that Christ Church used to publish a weekly printed newsletter. That's much different than how we do things these days.
In addition to our much-less frequently printed newsletter, we put news, sermons, and other things on our parish blog. We have a Facebook page. Most weeks, we send out an email newsletter. For the people who don't have Internet access at home, we post printouts on our bulletin boards.
Despite very different methods of communicating, we are still trying to do the same thing: keep people informed of what is happening in the parish, forming disciples, and inspiring folks with thought-provoking commentary (or sometimes music videos).
And this brings me to something I'm passionate about. We have to remember why we are doing something before we can decide what to do. Whether we use hand-calligraphied scrolls or Twitter, the church is trying to share the good news of what God has done in Jesus Christ and what God is doing in our own lives today. The question cannot be, "Should we have a Facebook page" or "How long will newsprint survive?" Instead the question is, "How is God calling us to tell the story of how our lives have been changed?" "How is God inviting us to share the good news with a world that desperately needs to hear an encouraging, hope-filled Word?"
Facebook has over 500 million users. Even more than the opportunity to reach a half billion people, Facebook and other social media give us the opportunity to change how we communicate. I believe that more and more communication will be relational as we go forward. The publishing model will give way to the storytelling model. There's still room for authoritative sources (the New York Times or Episcopal News Service), but people can read this content in plenty of ways. Newsprint is not the only way to get our news.
This brings me to my second idea about the future of communication, especially within the Episcopal Church. We will see many activities pushed down to the most local level. For the people who still rely on print media, their local congregation can provide Sunday leaflets or printed newsletters. Thanks to the magic of "cut and paste," our parish newsletters can contain stories of national or global reach.
I don't especially like it when I notice one of our acolytes texting during the service. But if someone sitting in a pew pulls out their phone to Tweet something they just heard in a sermon, I consider that we've just shared the good news beyond our walls. There is a whole new world of ways to make sure that the Episcopal Church is not confined inside stained glass windows.
Pardon me, I've got to go post a Youtube video on our parish Facebook page.