Episcopal newsprint is dead. Long live newsprint!
As longtime 7WD readers will know, I have served on various committees in an advisory capacity to the Episcopal Church's communications staff. Until 2009, the principal advisory group held the grandiose title of Board of Governors. More recently, we've had the more functional but less exalted title of Episcopal News Service Advisory Committee (ENSAC is the unfortunate acronym). Anyway, our committee received the news a few weeks ago that the newspaper of the Episcopal Church would cease publication after the January 2011 issue.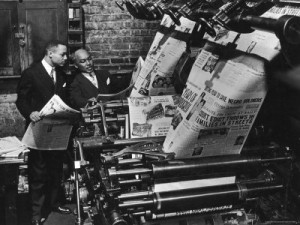 This wasn't much of a surprise. The paper nearly bit the dust at General Convention 2009. Some tweaking and budget magic resulted in a new lease on life for the paper, which gets into peoples' homes mostly through printing partnerships with dioceses across the country. Within ENSAC, there is a range of views on the viability of print media. To put it another way, we don't all hold the same view on precisely when print media crosses the line of diminishing returns to become more costly than it's worth.
Anyway, ENSAC issued a resigned statement when the paper's demise was announced. I personally applaud the decision of the communications staff at 815 to focus on online content. Those who still want print — and I fully believe it has a place in today's church — certainly can do this at the local or diocesan level easily enough. As 815 sharpens its focus on content, not newsprint delivery, I expect the quality and quantity of coverage of the Episcopal Church to increase. We'll see more multimedia content and even live coverage. And they'll still write articles under the brand of Episcopal News Service. These articles can be used by print publishers, whether at the congregational or diocesan level.
And we've learned recently there's going to be a new national newspaper, the Episcopal Journal. (Coverage in The Living Church or ENS.) The paper will be edited by Jerry Hames, the well respected and much-loved former editor of the Episcopal Church's own Episcopal Life.
I'm pleased that there will still be a newspaper. Some dioceses, for various reasons, continue to need a print partnership in order to carry on their communication strategy. Those who prefer to read their news on newsprint instead of a web browser will have a choice. There has always been The Living Church, but it skews a bit conservative for many readers' tastes. Now there will still be a moderate or perhaps left-leaning print option.
Our church is stronger when there are more independent voices speaking. One of the issues that dogged Episcopal Life was its identity crisis. On the one hand, it was a publication of 815, with staff under the control of the church's hierarchy (think "house rag"). On the other hand, it functioned with some autonomy (hence the theoretically independent advisory board). Anyone close to the paper could tell you that at times these two identities came into competition. This competition was less of an issue in recent times, under the banner of Episcopal News Monthly, but the possibility was still very real.
Everyone wins in this new scenario. Those who rely on print can continue to do so. In fact, I suspect they'll get an even better product, because the editorial staff can draw on ENS content while also doing original and completely independent reporting. The staff at 815 can focus on what they do best: coverage of churchwide stories and other topics of interest.
My own diocese is not a print partner, so I look forward to signing up for a subscription to the Episcopal Journal when they become available. I also await an even better presence online from Episcopal News Service.