Feast of St. Nicholas: With voices loud and joyous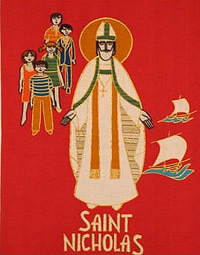 Today is the Feast of St. Nicholas. He's a pretty awesome saint, not to be confused with the consumption-oriented myths of Santa Claus. Drop by the St. Nicholas Center website today. There's much to be said for reclaiming the Christian roots of not only Christmas itself, but of St. Nicholas and surrounding legends. Rather than bemoaning "secular" Christmas, why don't we redouble our efforts to share the Good News? Let's face it. The Christian story of Christmas is way better than anything Hollywood or Madison Avenue can produce.
With voices loud and joyous, O, praise the Saints on high,
for Nicholas and others announce the time is nigh.
Not for the love of self, their deeds, nor worldly pride of place,
Who for the love of Christ, lived, and now they see His face.
O, patron Saint of children, who guards them while they sleep
He loves the little children but Christ their souls doth keep.
He calms all fears and nightmares of babes so blithe and bright.
Saint Nicholas, the blessed, is with them through the night.
Saint Nicholas, the blessed, watched sailors on the deep
Restored to life a seaman when storm tossed, he did leap
When in the ocean's dark night, as land slipped out of sight.
Saint Nicholas, the blessed, did show the rainbow's light.
Three lovely dow'r-less maidens, in sudden poverty
Their father's death, unweicome, no suitors would there be.
One night three bags of gold he sent and this full secretly
O generous Saint Nich'las, their thanks did rise to thee.
May saints and prophets praise Thee, the Holy Three-In-One
The bread of life You give us, in Resurrection won.
Through Advent's contemplation, the Light of Christ we see
And thus upon God's last day—as promised—raised are we.
Text: Jane McAbee, written for the November 2006, fiftieth anniversary of Saint Nicholas Episcopal Church, Midland, Texas.