St. Andrew's Day: Jesus calls us o'er the tumult
It's an obvious choice for St. Andrew's Day, and I'm sure not a few readers will cringe. But perhaps there's a worthwhile message even in a sappy gospel hymn. Verse three seems especially apt in this season. Just, please, do not ever make me sing this to the lamentable tune Galilee.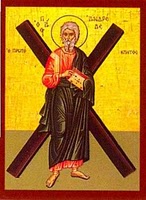 Jesus calls us over the tumult
Of our life's wild, restless, sea;
Day by day His sweet voice soundeth,
Saying, "Christian, follow Me!"
As of old Saint Andrew heard it
By the Galilean lake,
Turned from home and toil and kindred,
Leaving all for Jesus' sake.
Jesus calls us from the worship
Of the vain world's golden store,
From each idol that would keep us,
Saying, "Christian, love Me more!"
In our joys and in our sorrows,
Days of toil and hours of ease,
Still He calls, in cares and pleasures,
"Christian, love Me more than these!"
Jesus calls us! By Thy mercies,
Savior may we hear Thy call,
Give our hearts to Thine obedience,
Serve and love Thee best of all.
Words: Ce­cil F. Al­ex­an­der, in Hymns for Pub­lic Wor­ship, by the So­ci­e­ty for the Pro­pa­ga­tion of Christ­ian Know­ledge, 1852.
I couldn't find any decent recordings of this online, and I won't link to settings of this text to the tune Galilee on principle.