What does God hate?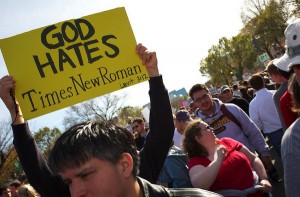 Please don't bother me by saying this isn't in the Bible. Plenty of things people ascribe to God are not in the Bible, so I'm sticking with this one. You will not see Times New Roman in any parish I am serving. Ever. In fact, if I didn't mind liturgical creativity, I'd add these two lines to our baptismal liturgy:
Do you renounce Times New Roman and other ugly typefaces?
I renounce them.
Will you use attractive typefaces and pay attention to kerning?
I will, with God's help.
From a wonderful collection of signs seen at the Rally to Restore Sanity and/or Fear.