In support of Dan Martins
An Open Letter to Standing Committee Members and Bishops with Jurisdiction:
We're writing today because we know Dan Martins, priest in the Diocese of Northern Indiana and bishop-elect of the Diocese of Springfield.
A number of us disagree with him on many things. But we agree with him about many things too. We all believe with Fr. Martins that Jesus is Lord, for example. We also believe with Fr. Martins that clergy and bishops of The Episcopal Church are bound by their vows to uphold the doctrine and discipline of the church and to abide by The Episcopal Church's constitution and canons.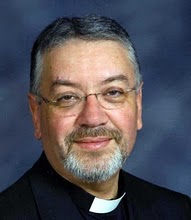 We know Fr. Martins as a person of integrity, who is honest almost to a fault. He has made no secret of it when he has disagreed with us. That's part of why we take him at his word. But more importantly, his actions speak volumes about how seriously he takes his vows and how faithfully he will strive to fulfill them as a bishop. He served in the Diocese of San Joaquin at a point at which its power structures were discussing how, not whether, to distance themselves from TEC. Fr. Martins consistently argued against placing TEC apart from the Anglican Communion. He advocated against joining a para-TEC structure. But more importantly, he's still here. When the power structures of his former diocese were trying to set an unalterable course to leave TEC, Fr. Martins left his diocese, not TEC.
We hope you will read his description of what happened in San Joaquin and his intentions toward TEC:
http://cariocaconfessions.blogspot.com/2010/11/consent.html
Dan Martins is in The Episcopal Church, and is committed to staying there. The clergy and laity of the Episcopal Diocese of Springfield want him to be their bishop. We see no impediment to his being consecrated as bishop, and we see ways in which his ministry as bishop in TEC could benefit our church even more than his ministry as a faithful TEC priest under challenging circumstances has. He has been faithful to the doctrine and discipline of TEC, he has vowed to do his utmost to keep every congregation under his care within TEC, and we support him in that.
Sincerely,
Ms. Sarah Dylan Breuer, Diocese of Massachusetts and Member of Executive Council
The Rev'd Tony Clavier, Diocese of Northern Indiana and Alternate Deputy
The Rev'd Scott Gunn, Diocese of Rhode Island and Deputy
The Rev'd Matt Gunter, Diocese of Chicago and Deputy
The Rev'd Tobias Haller, BSG, Diocese of New York and Deputy
The Rev'd Stephen Moore, Diocese of Olympia and Deputy
The Rev'd Bruce Robison, Diocese of Pittsburgh and Alternate Deputy
The Rev'd Mike Russell, Diocese of San Diego and Deputy
The Very Rev'd George Werner, Diocese of Pittsburgh and past president of the House of Deputies