BREAKING: 7WD meets the ABC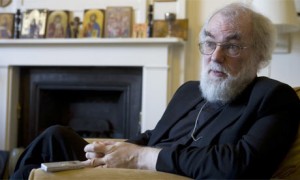 The secret progressive klatsch and the secret conservative cabal within the Anglican Communion met recently with the Archbishop of Canterbury. As you know, we conspirators are all bloggers. As a blogging member of the liberal conspiracy, I was planning to join with others in releasing a statement in a major press event in Pasadena. However, the MCJ has decided to scoop us all. They must have had a secret recorder at the meeting, and they've released a transcript.
ROWAN WILLIAMS: First of all, the Archbishop of York and I would like to thank you all for coming. As many of you know, some are calling this meeting the world's first digital Lambeth Conference because…

SCOTT GUNN: Dear God, I hope not.

ROWAN WILLIAMS: Um…why?

SCOTT GUNN: Does that mean that we're all just going to sit around babbling for a few days and then issue some kind of meaningless statement? Because if we are, count me out. I've got Spurs tickets for this afternoon.

WANNABE ANGLICAN: Who are they playing?

SCOTT GUNN: Man U.

WANNABE ANGLICAN: Sweet!

ROWAN WILLIAMS: No, no, it's nothing like that. I called this meeting because the Anglican Communion recognizes the influence and importance of the new media in Anglican affairs…
Make sure you read the whole thing. At point, I imagine the conservatives are huddled in their secret volcano lair. We progressives will be meeting soon for a meditation retreat at a Christian/Zen center to develop a response.