20 greatest Jesus products. Ever.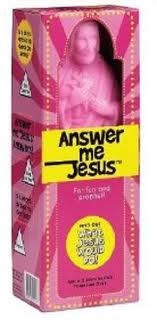 Greatness is in the eye of the beholder. If, like me, you enjoy collecting religious kitsch, then you will find this list of the 20 great Jesus products amusing. Some people would rename this "The 20 worst Jesus paraphernalia products of all time." So there you have it. Greatest? Worst? You decide.
From this list, I own only one product. "Answer me Jesus" saves lots of times in vestry meetings. Who needs complicated strategy planning sessions, when you can just turn over your pink velvet Jesus and get the answer? My office also contains the popular dashboard Jesus and the Jesus Action Figure. Who could object to that? If nothing else, Jesus was a man of action. To be sure, I would not want to own everything in the so-called top 20. Even my irreverent sense of humor has its limits.
My favorite, perhaps, is the LEGO Ark of the Covenant. What say you, dear reader? Do you collect such things? What's your favorite?