Online missionary outpost?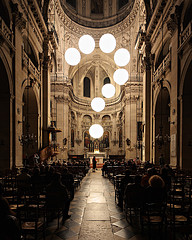 For whatever reason, we've been encountering lots of seekers lately at the parish I serve. Often these folks are completely unchurched. Sometimes our seekers have some church experience, but almost never in the Episcopal Church. My first real conversations with people is usually by email. Maybe they write to us first, before they visit our church, to find out if it's the kind of place they'd like to check out. Or perhaps the blinking cursor of an email message seems safer than the scary conversation in the after-church handshake line.
I love encounters with those who are seeking God. I love people who have been moved by life's vagaries to seek out a faith community. I love the open questions and the fresh desire of seekers. But there's a challenge for me. It's hard to give someone a sense of what the Episcopal Church is all about by email. If they want to meet with me over a cup of coffee or stop by the office for a chat, it's pretty easy. I wish I could point folks to a fantastic website where they could get a sense of the Episcopal Church. It does not seem to exist. Alas.
Yesterday, on Facebook, I asked the question of my friends. Several hundred friends, and no one had the answer. I pre-empted people by saying I would not entertain www.episcopalchurch.org as a candidate. It's lousy for seekers. For church geek insiders, it's fantastic. For people who want to know who is the Acting Deputy Program Officer of some random 815 office, it's good. For those who want to find out where the Presiding Bishop or the President of the House of Deputies have appeared lately, you're in luck. To get to know the Episcopal Church, you have to look elsewhere.
This is what my Facebook friends suggested:
Wikipedia. Well, yes, if you want a clinical description of our polity, history, and current controversies, it will do just fine. But I've not yet met a seeker who said, "Tell me more about your bicameral legislative assembly and its history." More likely they'll say, "Tell me more about Jesus in your church." You won't find that in Wikipedia.
Parish websites. As one person suggested, just visit the website of the nearest parish. Of course, the problem is that parish websites stink about 90% of the time. A couple of weekends ago, when I was visiting another city, I looked at several websites to figure out where I wanted to go to church. In a shocking number of cases, I couldn't figure out where the church was or when the services were, let alone who the people were or why I might want to go there. Almost never does a parish website give one a sense of Episcopal Church or the Anglican tradition in Christianity, as distinct from other places. And please do NOT point me to your parish website with the crufty prose about how we sit, stand, and kneel at various times. That copy was great in 1950, but it's just not reality any more.
Fr. Matthew's videos. Now here is a suggestion of merit. He's got some great stuff, and the tone of it is about right for seekers. The problem is that we need a good wrapper to lead a seeker through the videos in some kind of order, and we'd need some surrounding text. When someone wants to know the deal on Henry VIII, it's good to have that on hand.
Seven whole days. I'm flattered, but this site is good for missional/cranky Anglicans. If you don't have a modicum of interior church geek or a set of leftist political/cultural/values, you probably won't enjoy it around here too much. Oh, and you'd better have an irreverent sense of humor. 7WD is cheeky, but that's about it's only attractive quality from the standpoint of seekers.
Peek through the Window (www.pttw.info) is the right idea, but it's a bit under resourced and a little dated. If you have a look at the comments in that Facebook conversation, you'll see that the webmaster is willing to share in the work of running that site and open to updates. Maybe that's a good idea.
We need to fix this. We do NOT need to commission a five-year study that runs through CCABs, Executive Council, and the Anglican Consultative Council. Our church needs a website much in the spirit of this great video. Now see, if I send someone a video about Episco-ninjas, then they begin to grasp who we are. But we also need text that is descriptive and engaging. I'll be vulnerable here and offer some of the text we use on the Christ Church website as an example. Feel free to offer your editorial comments here, but I hope you'll see that we're trying to give a sense of who we are to a diverse audience.
I will personally pay for a domain and for hosting, if we can get a team of people together to work on this — to create a great website for seekers. There's lots of great content around. There are loads of Jesus-loving Episco-bloggers who could do this in a few weeks, with enough brains and hands on the task. I'm astounded this isn't already done, but I think we can do it. Quickly.
What say you, dear readers? Did I miss a great website for seekers who are considering joining Anglicans on the pilgrimage? Is someone already working on this? Can we do it? What do you think seekers want to see on the web?
The field is ripe for harvest, and much of that field is online. We can't afford wait much longer. We need a missionary outpost on the web.
Photo by Flickr user Dom Dada.