Christ-like simplicity in a complicated world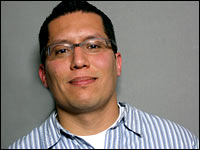 Our Christian faith is tested not when things are easy, but when life is challenging. We Christians profess to love everyone, but what does that really look like? If you want to see Christ-like love in action, read the story of Julio Diaz. It's been around for a bit, but Facebook friend Matt Gunter posted a link to it this morning, and I was glad to learn of this extraordinary encounter.
He was walking toward the stairs when a teenage boy approached and pulled out a knife. "He wants my money, so I just gave him my wallet and told him, 'Here you go,'" Diaz says. As the teen began to walk away, Diaz told him, "Hey, wait a minute. You forgot something. If you're going to be robbing people for the rest of the night, you might as well take my coat to keep you warm."
It gets even better. Go read the whole thing (or you can listen to Julio tell you the story).
I don't know that Julio Diaz is a Christian, but in his simple actions he has manifest what it means to be a Christian. Was this safe? Of course not. But then no one ever said Christianity was meant to be safe. I'm not encouraging everyone who reads 7WD to risk their lives at every opportunity. I am simply asking you to ponder what your faith looks like, what our love of every person looks like.
Back when I lived in New Haven, I was frequently asked for money by people on the street. When I had time, I sometimes offered to buy them dinner or to accompany them into a takeout place where they could order what they wanted. Each of these encounters was infused with sacredness. I've never risked as much as Julio Diaz, but his example reminds me that practicing what we preach may take us to the mountaintop of grace-filled moments.
I'll bet when their meal was finished, Julio and his mugger were glowing. For they had each encountered the face of God.