Get your General Synod coverage here!
Tomorrow and throughout the weekend, as time permits, 7WD Action News Live Team Coverage!! will be monitoring the goings on at the Church of England's General Synod. If you are a church geek, you'll already know what's up. If you're not a church geek, they're debating women bishops and going through doors at key moments. Here's some background on what to expect with the debate on women bishops. Blog posts might appear here at random or important moments. Tweets are very likely over here, and you might want to keep an eye on the #synod hashtag. If you are following, this realistic illustration by the ever-wondrous Dave Walker should help you visualize what's happening: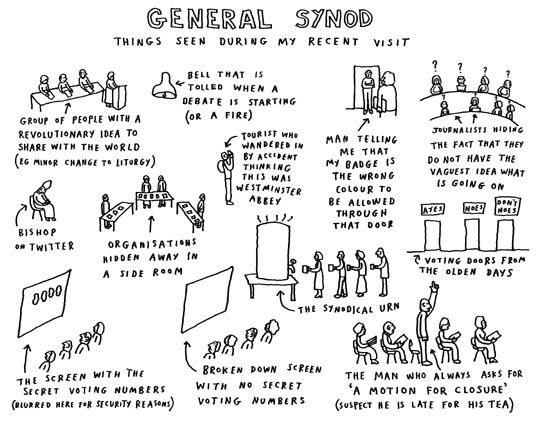 You can check the proposed schedule here (PDF). Papers are online here and here. Excellent blog posts are likely to appear here and here. The latter link could also feature cartoons. Live streaming audio should be available here. Thinking Anglicans is probably the best catch-all to follow what's happening. Except for this esteemed bastion of journalism/silliness, of course.
By the way, here's some info on how different things are in the C of E. Yes, someone could swoop in and compel everyone to practice their archery skills. That is the law, friends.
Wave of the quiver to Ember Days, who noticed the bit about weapons.