One thousand, really?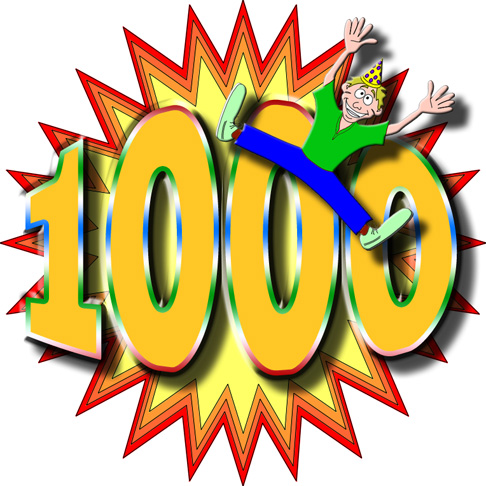 This is the 1,000th post on 7WD. Back in February 2008, I posted the first one. In that time, just under 50,000 unique visitors have had a look at this little corner of the interwebs. We've had some great conversations here. Two or three times, I've had to apologize to someone for a post too hastily (and crankily) written. I was once treated as a celebrity at the salad bar in the refectory of General Seminary. "Hey, it's the guy who writes that blog!". This was strange, and they probably know about 7WD only because the hymn from which the blog's title is taken is sung to the tune "General Seminary" in this country. I didn't burst their bubble to let them know that "Seven whole days" existed in poetry before their beloved seminary. (General people like to live in their own special world.) As usual, I have digressed. Mostly I've enjoyed my blogging. I hope you've enjoyed reading 7WD on occasion.
Over on Facebook, I asked my friends what I should blog about for this 1,000th post. The suggestions ranged from a video I had posted (about William Shatner stealing Leonard Nimoy's bicycle) to millennialism. There were further suggestions to write about the current mess over in the Church of England or cupcakes. Mmmm, cupcakes. The latter suggestion came via Twitter, perhaps because "cupcakes" is well short of 140 characters. Having ranted about the CofE in post 999 and chocolate in 998, I felt it wise to eliminate those. Not feeling inclined to cover all things millennial, I decided to follow another suggestion: write about why I do this.
So here's why. Firstly, I enjoy it. This is what I do to stretch my brain beyond the parish and, on a good day, to engage with folks around the world. Secondly, I am eager to push conversations within the church toward mission and away from petty squabbles. Thirdly, my peculiar sense of humor isn't always valued locally (surely not because of any defect in my sense of humor), but two or three others on the planet get some yucks here. Fourthly, I've met some fantastic people (quite a few in real life!) through blogging. Finally, when I am at my best here, I find that this is an extension of my priestly ministry to share the Good News.
There are some down sides to all this. Many bloggers report an ailment from which I sometimes suffer. It's pretty easy to get obsessed with traffic numbers. Really, it shouldn't matter if anyone reads what I've written, but I'm not always so serene as that. Most of the posts which have gotten the most traffic are the ones in which I've waded into matters of Anglican controversy. The more righteously indignant, the bigger the traffic spike. A good number of these posts are one of which I am proud, feeling that I've contributed either humor or balance to an often shrill conversation. Some of the posts have been less helpful in the conversation, though I've never deleted a published post. The solution, of course, is to follow the same advice that's given for emails: never hit "publish" when one is worked up. I've gotten better at this, I think, and I hope I continue to remember that I'm doing all this as a priest and not as a cranky internet guy.
Another area in which I hope to improve is proofreading. More to the point, I suppose I should start reading what I've written before I publish it. I'm often stunned by the typos (usually missed or incorrect words) when I have occasion to go back and look at something. You've been patient, dear readers, and for this I thank you.
Then there are the periods of neglect when parish life doesn't leave enough time for blogging. As I continue to sort through all that, I hope to be a bit more disciplined so that I can produce a steady stream of choice content for the legion of 7WD fans. (For "legion" you should read "several dozen".) I admire Bishop Alan and his "one excellent post per day" discipline. Wow. If he were running the Church of England, no one would be gearing up for croziergate, purplegate, tippetgate, purificatorgate, fontgate, or noticeboardgate.
Well, anyway, thank you for reading this post and for visiting 7WD. Interactions with readers through comments, Facebook messages, tweets, and emails are what I have enjoyed the most. Please keep responding with the good, the bad, and the ugly. And the proofreading. If there are things you'd like to see more of or less of, let me know.
The pace of writing has picked up since I started. It won't take me two years to get to 2,000 posts. So look for another post like this one, perhaps in a year or so. Meanwhile, I'll see you around the nets.