The truth shall set you free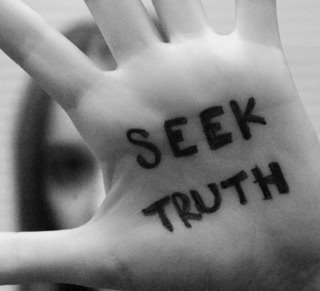 I have resisted writing about the latest goings-on in the Angst-lican Communion. For one thing, I share Jim Naughton's sense that all this institutional melodrama may not matter that much. Plenty of other bloggers have had plenty to say. I've (finally) decided to add my voice to the din after reading Canon Kenneth Kearon's latest missive. The odor (or odour, if you prefer) of hypocrisy got to be too much.
Before I get to that, a recap for my readers who are not church news junkies. Just before the Day of Pentecost, the Archbishop of Canterbury issued a "Pentecost Letter to the Anglican Communion" saying that the Episcopal Church was going to be asked to back off a couple of committees that no one had ever heard of — because we went ahead ordained Bishop Mary Glasspool. Our own Presiding Bishop offered some words about that, pointing that that ecclesiastical bullying is as much revisionism (and fresh colonialism) as anything that's happened in the US. It was a veritable primatial smackdown!
Then comes today's latest nastygram, from the Archbishop of Canterbury's enforcer. Canon Kearon has written a letter kicking the Americans off the committees (whose names I can't be bothered to look up, and whose function matters little, but keep reading anyway). Let's start with the observation Kearon displays a shocking ignorance of what's going on. He mentions that he has "written to the Primate of the Southern Cone, whose interventions in other provinces are referred to in the Windsor Continuation Group Report asking him for clarification as to the current state of his interventions into other provinces". Thirty seconds on Google might have taken Kearon to this page, which shows that the "Diocese of San Joaquin" is affiliated with the Province of the Southern Cone. California being in the US, that means that this represents an active incursion into the Episcopal Church by a foreign prelate.
What I find even more shocking is a blatant hypocrisy of this whole process. The Archbishop of Canterbury was careful to use the word "formally" in his letter. In other words, if a House of Bishops somewhere passes a resolution, it counts. If you just do it quietly (in the closet), it's fine — as long as you whisper. So the Church of England can bully the rest of us, while its leaders — including members of its General Synod and bishops — ignore what's happening in their own church.
Throughout England, thousands of same-sex couples have come to their local parish church for a blessing upon their relationship. This is especially true in London. No figures are kept, because these blessings are usually "off the books" — the way one might bless a dog or a new car without putting it in the service register. There's a big difference, of course. For many of these ceremonies, hundreds of people fill the church. After all, these are people receiving a blessing. Loving, faithful people. Receiving blessings. By the thousands. In churches. In Rowan's back yard.
The Anglican Communion Office and others bully the Episcopal Church for reasons that are unclear. Maybe it's latent anti-Americanism, and we are being punished for the many sins we've visited upon the world. Not that we don't deserve to be smacked, but this is a wrong way to do it. (So it this.)
I'd feel better about all this if the same scrutiny that we Episcopalians are receiving applied also to Canadians (more gay stuff there!), Southern Cone (borders!), Nigeria-Uganda-Rwanda (borders!), and Australia (I'm looking at you, Sydney, for your fomenting of incursion, not to mention your wanton innovation in lay presidency). That would at least be consistent, though it would still be inadequate.
For all of this anti-Episcopal hand-wringing to have any moral credibility, we'd need to see some honesty in England. How about if the Church of England put some policies in place to cover what's already happening? How about if some bishops publicly owned what they say privately to their clergy in same-sex relationships? How about if members of General Synod put some substantive motions on the floor, or at least asked more pointed questions?
If the Episcopal Church is going to face consequences for our understanding of a Gospel of inclusion, then shouldn't others face the same consequences? How about discipline against the English clergy who perform same-sex blessings? What about their bishops, who wink and then look the other way? That's not going to happen. Starting with Lambeth Palace staff and the Anglican Communion Office, it would be too costly.
Parishes across England, especially in London, would lose the services of their clergy. Dioceses would suddenly need new bishops. And frustrated lay people — thousands upon thousands of whom labor for a church they love, despite the message that their worth as persons is diminished because of their sexual orientation — would leave the church in increasing droves. Maybe they would petition the US for alternative oversight. As long as we're wearing our dunce cap, I guess we have nothing to lose.
Maybe we Episcopalians should set up shop in England for people who want to be honest about who they are and what they do. "The truth shall set you free" is the motto of the Anglican Communion. Look at the compass rose, if you do't believe me. Ironic, isn't it? Perhaps it's time to start living as if we believe that. Hyprocisy and closets enslave. Truth and the light of day sets us free. I'll take truth, please.
I wonder if anyone in the Church of England is willing to take some risks and step into the light of day and speak the truth?
UPDATE: As the MadPriest rightly points out the comments (below), some people in the Church of England have stepped into the light of day and made some noise for justice. I did not mean to ignore their real contributions and, in some cases, painful sacrifice. However, my point remains that not enough people who are high in the ecclesiastical food chain have been willing to speak out, perhaps for fear of disappearing preferments. I've spoken with a few bishops who complain about "the situation" as if they were powerless to change things or even to speak out. Lots of senior clergy blame +Rowan for things, but seem unwilling to assume responsibility to work and to speak for change. The US got where we are (for better or worse) because of the sacrifices of many, high and low in the church hierarchy. I'd like to see less hand-wringing and more action from bishops and members of General Synod. That was my point.
Sorry, MadPriest, for my failure to acknowledge what you and others have done. And thank you.