Episco-upgrades: Think bigger on pastoral care
This is the seventh post in a series. Click here for the previous post. Sorry for the delay since that previous post; I hope the next one will be posted soon.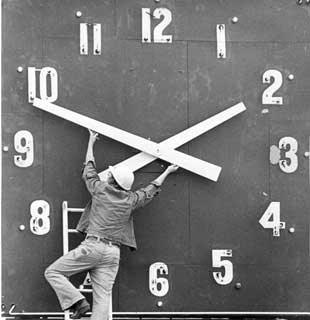 We all know clergy who are effective leaders and other clergy who are less effective. What distinguishes one from the other? There are certainly lots of factors, but time management is a pretty big one. LifeWay Christian Resources studied how clergy spend their time. It turns out that the use of our time has a great impact on our leadership. It sounds obvious, but the details are fascinating. Here are but three examples:
The effective church leaders spent ten hours each week in pastoral care (counseling, hospital visits, weddings, funerals) compared to thirty-three hours for the comparison group pastors.
Effective church leaders average five hours per week in sharing the gospel with others. Most of the comparison church pastors entered "0" for their weekly time in personal evangelism.
Comparison church leaders spend eight hours a week — more than an hour each day — performing custodial duties at the church. The typical custodial duties included opening and closing the facilities, turning on and off the lights, and general cleaning of the building.
That first one is a doozy. The pressure to offer pastoral care to everyone is enormous. Hardly anyone in a congregation would resist their priest's impulse to use lots of time in this way. But of course, there are two problems with a priest spending too much time offering pastoral care. First, when the priest uses time this way, it means that other things are not getting done by the priest. Second, when a priest does this work, it means that a lay person is not doing it. Let's take up those two ideas, beginning with the latter point.
I remember a couple of years ago when someone approached me on a Sunday morning, "You should go visit Mrs. X. She really needs a visit." I was feeling a bit impatient at the moment, and I hastily replied, "Pastoral care is not my job. That's your job. Sacraments are my job." I was probably less "pastoral" than I could have been in that moment, but I still think the point is right. When people learn to delegate their pastoral care work to the paid staff, it means that the community's abilities atrophy.
In a healthy congregation, the lay people engage in the ministries to which lay people are called. The priest engages in ministries appropriate for priests. Of course, the details will vary by church size (family, pastoral, program, etc.), but the point generally remains. When clergy do the work of lay people, the community is deprived of some of its vitality. And, of course, when clergy abrogate some of their responsibilities, boundaries are blurred.
While it is true that many people are attracted (and even called) to priestly ministry by the desire to offer pastoral care, this ought not to be the primary task of a priest. Priests should offer pastoral care, to be sure. But in congregational life, they are also called to offer leadership in other ways. They ought to use the gifts which have been given only to them (sacramental ministry especially), while sharing their ministries with many others.
If I spend most of my time visiting people, it means that I am not preparing my sermon, mentoring lay leaders, thinking about strategic goals, or sharing the Gospel with those who do not know Christ's love. To make time for this important work, it means priests have to give up the need to do everything themselves. Instead, they must understand that a leader's call is not to do every bit of work, but to see that it gets done. Equipping lay people to do everything which lay people can do both frees up the priest to engage in leadership work and it strengthens all members of the body of Christ to do their part.
In the Episcopal Church, my sense is that with the professionalization of clergy, we've allowed an unfortunate dynamic. People pay their money and expect services in return. For our part, we clergy have allowed ourselves to become spiritual counselors in silk dresses, who also run the copier and sweeps the floors. If we clergy really did our jobs well, we would work ourselves out of jobs, as lay people assumed all the many tasks which belong to the whole church. This isn't particularly realistic, but the church would surely be healthier if priests were not taking away the work of others.
Maybe one key to the necessary revitalization of the Episcopal Church is to have another look at the work of clergy. I like the idea of studying time spent on tasks, because it objectively lays bare the kind of leaders we have. My guess is that if we repeated the Lifeway study in the Episcopal Church, we'd find similar results. Congregations wither when the clergy leaders are focused on individual pastoral care rather than the needs of the whole community and even the whole world. Ironically, if clergy spent less time providing pastoral care, maybe we'd be better pastors. The church needs great pastors, so let's get to it!
This is the seventh post in a series. Click here for the previous post.