Prayers for Rogationtide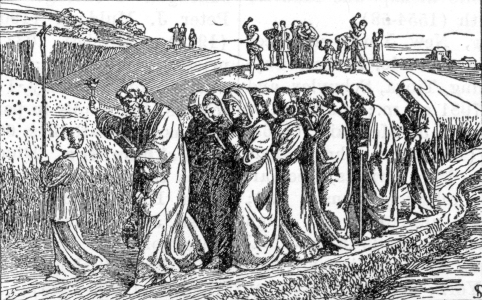 Today, tomorrow, and Wednesday are the traditional rogation days. At the parish I serve, we observe Rogationtide with a Procession after the principal Eucharist on the Sixth Sunday of Easter. We depart the church and walk around our property, pausing at each of the cardinal compass points to say prayers for the land and for the people in our community.
This is one of my favorite rituals in the church year. It gets us out of our building and onto the sidewalks (at least for part of our walk). It makes us aware of the land in a very tangible way. And it allows us to make good use of our warden's staves.
I thought the liturgical texts might be of interest to some readers, so I've posted them below the fold. They're cobbled together from various and sundry places; unfortunately there is not much in the way of liturgical provision for a rogation procession in authorized texts of the Episcopal Church. I hope this will be remedied, since there is an increasing awareness of our interdependence with our environment and a greater desire to experience the richness of ancient liturgical traditions these days
Just after the postcommunion prayer, we deviate from the usual conclusion of the liturgy.
THE ROGATION PROCESSION
During the hymn, the Procession forms.
HYMN (Sung to Kingsfold, set by Ralph Vaughan Williams)
O Jesus, crowned with all renown,
Since Thou the earth hast trod,
Thou reignest, and by Thee come down
Henceforth the gifts of God.
Thine is the health and Thine the wealth
That in our halls abound,
And Thine the beauty and the joy
With which the years are crowned.
Lord, in their change, let frost and heat,
And winds and dews be giv'n;
All fostering power, all influence sweet,
Breathe from the bounteous Heav'n.
Attemper fair with gentle air
The sunshine and the rain,
That kindly earth with timely birth
May yield her fruits again.
That we may feed the poor aright,
And gathering round Thy throne,
Here, in the holy angels' sight,
Repay Thee of Thine own:
That we may praise Thee all our days,
And with the Father's Name,
And with the Holy Spirit's gifts,
The Savior's love proclaim.
Words: Ed­ward W. Ben­son, 1860
Presider: Let the peoples praise you, O God;
People: Let all the peoples praise you.
The earth has brought forth her increase;
May God, our own God, give us his blessing.
May God give us his blessing,
And may all the ends of the earth stand in awe of him.
Let us pray.
Almighty God, the Giver of all that is good, you promise to hear the prayers of those who ask in your Son's Name. We pray that in your mercy you will supply all our needs, so that daily we may offer our lives to your praise and glory. Through the same Jesus Christ our Lord. Amen.
Let us go forth in peace.
In the name of Christ. Amen.
The People are invited to join the Procession, following the Wardens.
The Procession will exit the Church and make its way to the Memorial Garden.
During the Procession, prayers are offered for the land and the community at several Stations.
AT THE WEST STATION
For hospitals
Sanctify, O Lord, those whom you have called to the study and practice of the arts of healing, and to the prevention of disease and pain. Strengthen them by your life-giving Spirit, that by their ministries the health of the community may be promoted and your creation glorified; through Jesus Christ our Lord. Amen.
For schools
Eternal God, bless all schools, colleges, and universities, that they may be lively centers for sound learning, new discovery, and the pursuit of wisdom; and grant that those who teach and those who learn may find you to be the source of all truth; through Jesus Christ our Lord. Amen.
For the unemployed
Heavenly Father, we remember before you those who suffer want and anxiety from lack of work. Guide the people of this land so to use our public and private wealth that all may find suitable employment, and receive just payment for their labor, through Jesus Christ our Lord. Amen.
AT THE SOUTH STATION
For the Parish House
Almighty and everliving God, source of all wisdom and understanding, be present with all those who gather in our Parish House, that we may continue the renewal and mission of your Church. Teach us in all things to seek first your honor and glory. Guide us to perceive what is right, and grant us both the courage to pursue it and the grace to accomplish it; through Jesus Christ our Lord. Amen.
For homes
Heavenly Father, we commend to your continual care the homes in which your people dwell. Let your holy angels dwell with them to preserve them in peace, and let your blessing be upon them always. Amen.
For the homeless and poor
Most merciful God, we remember before you all poor and neglected persons: the homeless and the destitute, the oppressed and rejected, and all who have none to care for them. Rise up, O God, and maintain their cause; help us to share with them as you have shared with us, for the love of your Son who for our sakes became poor, Jesus Christ our Lord. Amen.
AT THE EAST STATION (The cemetery)
For the departed
Almighty and everlasting God, the God of the spirits of all women and men, we pray you to give to those who rest in Jesus the blessings of your love, that the good work which you began in them may come to its true end in the day of Jesus Christ, our Lord and Savior. Amen.
For justice
Almighty God, you have given all peoples one common origin, and your will is to gather them as one family in yourself. Fill the hearts of all with the fire of your love and the desire to ensure justice for all our sisters and brothers. By sharing the good things you give us, may we secure justice and equality for every human being, and a human society built on love and peace, through Jesus Christ our Lord. Amen.
For workers
Almighty God, whose Son Jesus Christ in his earthly life shared our toil and hallowed our labor: be present with your people where they work; make those who carry on the industries and commerce of this land responsive to your will; and give is all a pride in what we do and a just return for our labor; through Jesus Christ our Lord. Amen.
AT THE NORTH STATION (The Memorial Garden)
For gardens
God, our Father in heaven, by your Son Jesus Christ you promised to those who look first for your rule and your justice all things that their bodies need, send us we pray you rain and sun for our gardens as shall be good for them and for our food, through Jesus Christ, our Lord. Amen.
For towns and cities
Heavenly Father, in your Word you have given us a vision of that Holy City to which the nations of the world bring their glory; behold and visit, we pray, the towns and cities of the earth. Have mercy upon all who live and work in them. Guide them into the way of justice and truth, establish among them that peace which is the fruit of righteousness, and hasten the time when the cities of this world shall become the Kingdom of our Lord and Savior Jesus Christ. Amen.
For our community
O God, you have brought us together in this place to learn your will and to be your family. We ask you to bless us with your Holy Spirit that we may live and work for you and for each other. Help us to live together in love and joy and peace. Make us strong to bear all trouble that may come to us, that we may know and do your will in all things. Draw us near to you in our prayers, and give us happiness in our feasts and times together. Give us hearts of praise and thanksgiving for all your goodness and mercy; and help us to remember those who are poor, starving, sick, or homeless. Finish in us all good work which we have begun, that we may spread your rule in all the world, to the honor and glory of your name; through Jesus Christ our Lord. Amen.
THE BLESSING
May God the Father of our Lord Jesus Christ,
who is the source of all goodness and growth,
pour blessings upon all things created,
and upon you, God's children,
that you may use God's gifts to God's glory and the welfare of all peoples;
and the blessing of God almighty,
the Father, the Son, and the Holy Spirit,
be upon you and remain with you always. Amen.
THE DISMISSAL
Let us go forth in the name of Christ. Alleluia, alleluia.
Thanks be to God. Alleluia, alleluia.
NOTE:
You are welcome to use any of these bits. If you have suggestions for improvement, please pass them along. If there is interest, I can try to dig up the sources for all of these prayers. I try to cite sources whenever possible, but I assembled the material hastily a couple of years ago neglecting to note sources at the time. I do not think any of the material here is under copyright.