Thou shalt tweet in church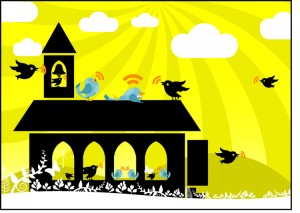 I've written a few posts about Twitter and the church. In addition to suggesting that Jesus would be tweeting (and why), one of my posts on tweeting during General Convention stirred some controversy (proving my axiom that any proposed changes to General Convention will always provoke stiff resistance). In comments responding to that post, one commenter wondered how I'd feel about people using Twitter during a church service. Another commenter admitted this practice (me too, though not while presiding or preaching!).
Over at Church Marketing Sucks, there's a post urging people to tweet during church. There's a top five list of reasons. Here's a snippet:
4. You will have a stored database of your compelling thoughts and notes from your favorite sermons. Use a hashtag to keep up with the information that you share. We could even implement a universal Twitter In Church hashtag. Any suggestions?
5. Many times people suffer from (SADD) Sermon Attention Deficit Disorder. So instead of just wandering off into space, simply wander off into the space of the World Wide Web. It's better use of your time tweeting great thoughts instead of drawing on the back of offering envelops.
I find the argument compelling, though with some caveats. One's principal focus during worship should be worship. For different people, this will be expressed differently. Some people can (or even should) knit or fiddle with a rosary during worship. Others will want to take notes. Still others may gaze at an object somewhere in the room. People will continue to find the best way to engage in worship, just as they have for centuries. There are people who might tweet a little and still pay attention to the worship service (this is akin to people who might take notes during a sermon).
One should not distract others. Again, this will be situational. In some parishes, the mere sight of a mobile phone during a service might provoke controversy. In others, it's not going to be a big deal. One's ability to tweet successfully will vary according to one's function in the service. A presiding priest must be fully engaged (100%) in the task at hand. Moreover, many people would (understandably) find it intolerable to see the presider thumbing away on a keyboard during the creed. Someone in a pew has a different role, and so might be able to tweet without disturbing others.
Some will doubtless object that this whole enterprise should be resisted. Perhaps they are right, but I think the church generally needs to find ways to engage our present culture quickly or risk extinction. As long as core principals are not compromised, there's not much harm in some experimentation. We have to be willing, as with all experiments, to notice what works and to admit what does not work. But in any case, our responses should be based on experience, not fear.
A few months ago, I was asked to do some blogging for Trinity, Wall Street during a conference on ethics and the economy. To do my work, I had access to a live video feed of the conference and its worship. While my main task was blogging, I decided to "live tweet" the worship and the conference talks. I was surprised at how many people engaged with my tweets, especially of the worship. I was not present during the service, but I could just as easily have sat in a back corner in a pew and unobtrusively tweeted the service.
While there are some risks (missing the point of worship), there are also massive potential upsides to changing our attitudes about Twitter and church. For a some people, attention to the worship service (especially the wordy bits such as the sermon) will be enhanced by sending 140 character snippets. The obvious upside is engagement with people outside our buildings. That, my friends, is the Great Commission. Our techniques have changed and expanded greatly over the last two millenia. Maybe it's time to add another way to share the Good News.
If you are on Twitter, please follow me. I've also set up a Twitter account for this blog, though it's just getting started. You're welcome to follow 7wd too.