Episco-upgrades: Simplify our structures
This is the third post in a series. Click here for the previous post or here for the next post.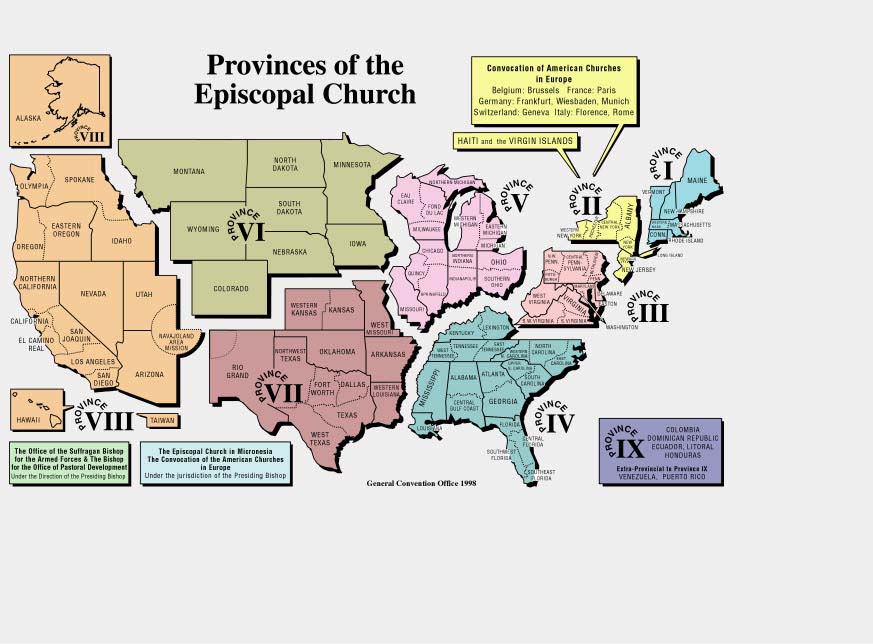 In this series, some of the posts will take up major, theological/missiological questions and others will glance at minor, technical issues. This post is in the latter category. It has to do with polity. Please try to keep your eyelids from closing now.
The Episcopal Church is, as you are probably aware, organized into 110 dioceses, give or take a little. And those dioceses are organized into nine provinces, cleverly named First Province, Second Province, etc. Now we get to my thesis: we should get rid of provinces.
If someone can tell me one truly useful thing that must be done at the provincial level, I'll gladly change my opinion. Without consulting canons, this is my recollection of the work of provinces:
Various committees and groups are filled by provincial appointment or election
Provinces often gather for formation activities or for functional gatherings (e.g. all the deacons from a province, or all the college chaplains)
There are Courts of Review in the provinces for matters of clergy discipline
Some mysterious things of importance to bishops
Maybe I've missed something arcane, but I think that captures most of it. All of this is important, but all of it could be done without provinces.
So what's my beef with provinces? Simply put, it's a needless layer of bureaucracy and another pointless set of meetings. Each of the nine provinces has a budget. Many (or perhaps all) of the provinces have provincial staff, full- or part-time. I know a few folks on provincial payrolls, and they are fantastic people who are dedicated to their work. I have no particular desire to get them out of work, but I'll bet there are other ways we could make use of their gifts — ways that would be more closely aligned with the God-given mission of the church.
Committees could be filled in plenty of other ways. One problem with our current system is that we like to have representation by bishops, "clergy" (as if bishops aren't also clergy; we mean presbyters and deacons), and lay people. Oh, and we like to have all nine provinces represented. That means 27 people, and we're not even talking about ex officio members. Now you will be quick to point out that there are plenty of groups in the Episcopal Church which do not have 27 members. OK, but there are some which do. And there are others with nine or 18 members. Get rid of that provincial model, and we could decide how large committees should be, and ensure diversity in other ways.
Here in New England, our provincial gatherings have been great. I'm a fan of getting Episcopalians together in areas larger than the diocese, but smaller than the nation. You can escape your own diocesan bubble that way, and that's a good thing. However, there's nothing magical about our nine geographic areas. We could still gather regionally, and just invite anyone nearby who would like to come. In our present system, the Diocese of Missouri goes one way and the Diocese of Western Missouri goes another. Maybe it would be nice to have a gathering in, say, Des Moines to which both dioceses in Missouri would come. In other words, we can still have the gatherings without that particular structure.
And, of course, the same applies to Courts of Review and various bishop-y things that happen at the provincial level. It wouldn't be that hard to constitute these groups by other means.
Provinces aren't that big of a deal. They don't cost that much, and they don't get in anyone's way. But there's also no compelling reason to keep them. It strikes me as a symbol of the transition through which the Episcopal Church must go now. We have to let some things go, and we have to make room for new ways of doing things. Bye-bye provinces, hello new ways.
I believe that the core of the Christian faith is unchanging. But pretty much everything else ought to be up for conversation. When it comes to matters of structure (and furniture in churches, but that's another post), relentless questions are essential. We should ask,"Does it make sense to do it this way?" or "If we were starting from scratch today, is this how we would do it?" If the answer is no, then let's fix it.
The mission of the church is too important, and the work to which we are called is too urgent to waste precious time and money on antiquated structures. Every provincial synod meeting is a meeting that consumes time which could have been used to build up the kingdom.
As I said above, if someone can offer a compelling reason why we need provinces, I'll gladly change my tune. If someone can tell me how provincial synod meetings (to pick one example at random) build up the kingdom of God, I'll make sure to attend the next one.
To close, knowing that I will have ruffled some feathers with this one, let me again say I have nothing against the people who have done good work at the provincial level as staff or elected leaders. Your work is important, and that's exactly why it's important to ensure that our ministry is aligned with our mission.
This is the third post in a series. Click here for the previous post or here for the next post.