Episco-upgrades: Taking measure
This is the second post in a series. Click here for the previous post or here for the next post.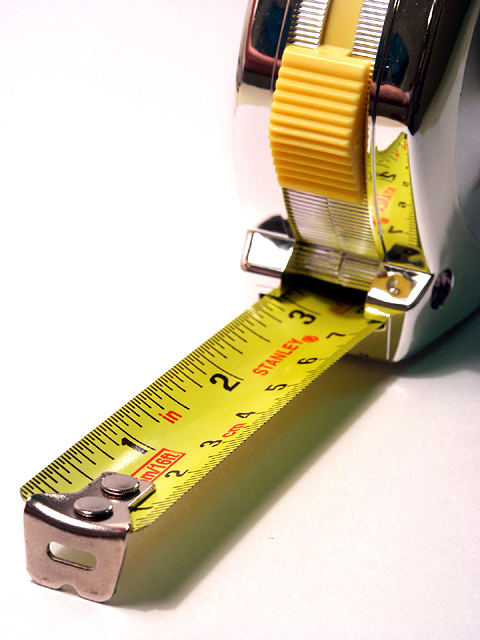 The Episcopal Church appears to be in slow, steady decline. Our pews are not as full as they once were, and we're losing ground at about 5% per year. Average ages of parishioners are increasing. To be sure, it may be that we're attracting just as many people as we once were, but individuals attend less frequently (at least that's what Bishop Alan Wilson suggested, as I blogged earlier). Either way, we're in trouble.
The problem is that that there aren't enough people in our churches. It's that we're set up for more people than we have now. We occupy buildings designed for double or triple our current numbers. We maintain programs that were designed for much larger congregations and for a different time.
Here's the thing: there are some congregations which thrive, while others are in terminal decline. One problem is that we simply do not measure ourselves often enough. Too often we base our thinking on how things feel. "Well, sure, we are not where we once were, but it just seems like we're doing fine! You can't measure spiritual things." Or so people say.
Let me begin by acknowledging that we ought not to play a numbers game. There are perfectly good reasons why a congregation might shrink and why that might be fine. For example, a congregation which is adapting its mission or ministry to new circumstances is likely to lose some members who are resistant to change. These things can be anticipated and measured against estimates of loss and gain. It also goes without saying that what is popular is not always right. Look no further than Christianity itself. I've never read any of the early church leaders who worried about numbers; they focused on mission. The numbers took care of themselves, as the church grew under the power of the Holy Spirit.
That said, numbers are often a useful indicator of how we're doing. The fact that the church choir is growing at the parish I serve suggests that the music director is doing a good job. The fact that our church school attendance has declined indicates that something is amiss (or at least needs closer scrutiny). Numbers are especially handy when taken in the aggregate. I come back to that annual decline of 5% in our attendance in the Episcopal Church. That's not sustainable very long.
Here's one problem. We tend to focus on numbers that are favorable toward our point of view, and we ignore others that might run counter to our thinking. Within congregations, we run a great risk of devolving in groupthink. Or, as we used to say in my IT work, "We begin to believe our own press releases." The latter comment is not good, by the way.
I'd like to propose a solution. It comes, actually, from Adrian Worsfold in a recent blog post over at Pluralist Speaks. In that post, he describes at some length his own experience attending a congregational evaluation. His context is a bit different from ours, but the idea has the same merit.
Suppose that once a year, a small team of trained volunteers descended on our congregations. They might meet with some leaders and ask a set of questions. Perhaps they'd get a church directory and call a few people at random (to ensure that you get outside the bubble of happy/unhappy leaders). They'd certainly attend the worship service. This last one is crucial. Worship is the most important thing we do in our Episcopal congregations. It's the only real contact that many parishioners will have with their congregation. If we get that right, we're doing well. If we get it wrong, we're toast.
We love to talk about how welcoming we are in the Episcopal Church. Of course, we're a self-selected group. When this comes up, say in a vestry retreat, the people who are chiming in with how wonderful things are have all been welcomed. They stayed. And they now have friends who greet them warmly each time they appear. The true test — and the only test — of welcoming is to see what happens when a stranger appears.
About a year ago, a man showed up at our 8:00 service. As always, we clergy were outside before the service to greet all who come. After the service, we were there again, and I had a chance to chat with him. He's a retired minister (of another denomination) and had been visiting churches. We were the fifth parish he visited, and he told me we were the first place where anyone asked his name. We were the first place where anyone invited him to come to coffee hour. Now, in this case, we got it right; this is actually one of the principal gifts of the parish I serve. But what about the guests who are not welcomed? They don't stick around to tell you that. Four times, this man went to church and not a soul offered him real welcome.
To find out how a congregation looks on first impression, you need to get people to come for the first time — people who are not known within the congregation. A congregational evaluation should most certainly include this component. I guarantee a guest at the parish I serve will notice the faded, peeling paint over the main entrance; our regulars have probably tuned it out by now.
In surveys, preachers usually get high marks from their congregations. But of course, not everyone can be above average. The relationship between priest and people begins to color things such that people find ways to enjoy mediocre preaching (or worse). First-time guests don't care about these things. The sermon is heard on its own merits. And getting it right matters not just to first-time guests. Mediocre preaching isn't likely to change lives. In other words, "liking" a sermon that somehow makes us "feel good" isn't enough.
Everything I said in the preceding paragraph applies to music and to the liturgy itself. When it comes to worship, familiarity does not breed contempt. It breeds something more deadly: complacency. Getting some folks to come in from outside the system can help name a congregation's weaknesses. It can also help to raise up its strengths, so that they can be magnified.
We'd also benefit from sharing this knowledge widely. My congregation could offer workshops on welcoming. We could benefit from the gifts of others in several areas. Over time, with annual evaluations, congregations and dioceses would have a broad sense of what's going well and what's not going well. There are no magic answers to make churches grow, except that we must be the church God calls us to be. That's easier said than done. As we're discerning how to follow Jesus — how to be the church — we can work on some technical details in parallel with that. We need a mixture of objective, concrete goals and subjective, abstract goals.
I often think of welcoming people into Sunday morning worship like this: we do not have to persuade people to join us. The Holy Spirit will do that. Our task is to clear away any obstacles from the work of the Holy Spirit. Our task is to be who we are — in a loving and honest way. If we manage that, things tend to work out pretty well. In other words, we use objective, concrete techniques to make sure that there's room for the more important subjective, abstract work of the Spirit.
In a future post, I intend to write about clergy accountability, so I'll leave that issue aside now. Suffice it to say that we need to take stock, regularly, of how we're doing in our work as a congregation. There are many aspects to this evaluation, and I've only scratched the surface. Still, it's clear to me that doing this would cost almost nothing in terms of money and very little in terms of time. And the potential upside is huge.
Maybe the problem is that fewer people are turning up because we're not offering what they need. Maybe we're not even offering what people want. Perhaps we need to do some thinking about needs versus wants. But how would we do any of this without asking people about their experience and their spiritual life? How will we know how we're doing if we're not sure what we're trying to do? You begin to see how obvious and how essential regular evaluation could be.
What do you think, dear reader? In the Episcopal Church, we are pretty allergic to using hard data in our evaluations. This is probably part of our denial of our present crisis, and it has to stop. Do you think there's room for systemic, regular evaluation of our effectiveness in ministry? How might we balance that with less concrete evaluation?
We don't have programs for doing this, alas. I think I'm going to call a friend and see if I can get a team to come have a look at the place where I serve. I'll let you know how it goes.
This is the second post in a series. Click here for the previous post or here for the next post.