Around the world with $10
What can you buy with $10? CNN.com has the answer.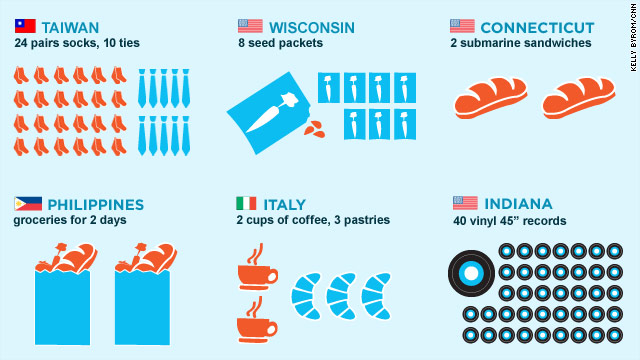 This chart is a little short on data for the developing world. I was astounded a few years ago when I was in Bangalore in southern India. In the Western hotel where I stayed, lunch will set you back $25. Walk across the street where the locals eat, and you can get an all-you-can-eat thali lunch for about a dollar. The food is way better in the local place. So for ten bucks, you and nine of your friends could have an amazing lunch.
In Bhutan, you could buy two weeks' worth of food for an entire family for ten dollars.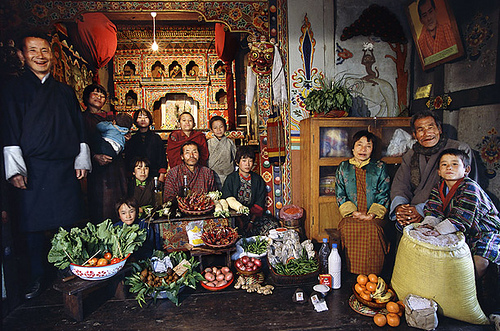 This photo is from Peter Menzel's captivating project, "What the World Eats." Each photo depicts a family with a week's worth of food, along with the price tag. For this family in Bhutan, a week's worth of food is $5.03. Look at food consumption and cost across the world, and the discrepancy and variety is heart-wrenching and stunning.
Pictures and data like these can be helpful and inspiring for people who live in the developed world. Around here, $1,000 isn't chump change, but it's also not exactly life-changing for most people who read 7WD. Get that money to the right people overseas, and it can change lives for the better, permanently. Simply put, money goes further in the places where it's most needed.
Give a few bucks to Episcopal Relief & Development. Take that ten bucks and multiply it by ten. You won't miss $100, but it could make a big difference to someone on the other side of the world.
And if you're ever in Bangalore, your pocket change will buy some of the best food you could hope to eat.