Counting "sheep" in church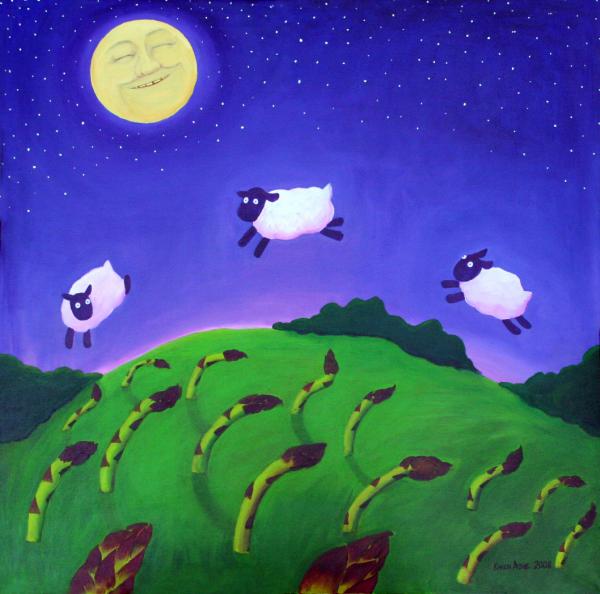 Many of my Facebook friends will have noticed that many nights my last status update of the day relates to counting sheep. It turns out I'm not the only one around who thinks about counting sheep, even if the "sheep" are of a different ilk.
Bishop Alan Wilson (who writes one of the best church blogs on the interwebs) has written a fine post, "How many people go to Church". In the post, he notes the oft-cited statistical declines in Sunday attendance figures. As Bishop Alan observes, people tend to lay the blame for his on liberalism or conservatism or somethingelseism. But the number of warm bodies in churches on Sundays may not tell the whole story:
The fact is that although total numbers of Churchgoers relate to total numbers of attendances, the two are not, in fact, the same thing. People drop out as well as drop in, so apart from the demographics of an aging population which is not replacing itself, churches are running up a down escalator anyway.

Recognizing the distinction, what people characteristically report is that actually more human beings, sometimes many more, are coming to Church. However, the regularity with which they do so collapsed in the nineties (giving rise to rapid decline in many attendance figures), and has become increasingly volatile. Only a very few now come twice a Sunday and every week.
I'd love to see some statistical surveys or analysis around this question. Are more people coming to church, but not as often? Certainly in the parish I serve, we see lots of people much less often than weekly. This becomes clear on big days, such as our recently full church on Easter Sunday. We had about triple our average Sunday attendance for our Easter services. Much of that surge were our regular folks, but they all came to church on the same Sunday.
This all fits in with social patterns more generally. People are less likely to make commitments of any kind these days. School athletics are the last bastion of full commitment out in the 'burbs. People will do just about anything to get junior to soccer practice. If junior was scheduled to be an acolyte, we're lucky to find out we need to find a replacement. Vacations might be scheduled around baseball games, but not around Holy Week.
I don't lay the blame for this solely at the feet of congregants. Their clergy have not offered a compelling vision of church life. To put it another way, the "abundant life" that has been taught in church is not as compelling as the abundance that's experienced on the football field, or at the mall for that matter. For a generation or more, the message from pulpits has been "I'm OK, you're OK". Who needs redemption, if life is A-OK?
This could be expanded into book form, but it's worth noting a few things:
Maybe there's an upside to all this. Without habitual attendance, you find out what value people place on church. If it's not seen as important, then people don't show up. That offers clear feedback on how compelling one's proclamation of the Gospel is.
The problem is deeply rooted in all sorts of complex factors true in American (and British) culture. I don't pretend to understand them. However, I can say that church attendance is not the only thing suffering in all this.
No one will be compelled to coming to church by cajoling or whining. We can't complain about low commitment levels and expect that will fix things. We have to offer great church that points people toward an unimaginably greater God. That said, we also have to tell the truth. (See next bullet.)
Clergy need to stop supporting poor choices. When someone says, "I won't be in church next week because I have to be at hang-gliding class", it is not helpful to say, "Oh, that's fine. Have a great time!" Maybe a gentle, "Hmm. Were there no classes on Saturday?" or "Well, that's your choice. We'll miss you." These things must be said lovingly and without the desire to impart guilt, but the truth must be told.
Quite to the point: we'd better be clear about why we're doing all this. If we gather on Sundays to prop up an institution, then the church is doomed and people are right to boycott. However, if we gather to proclaim the death and resurrection of Jesus Christ and the hope of eternal, abundant life — if we do that sincerely and with excellence — then people might just show up. It might be so good they'd schedule soccer around church. Imagine that!
Back to Bishop Alan's point. If his hunch is right, that sends a subtly different message to church leaders than mere decline. Perhaps it's not that people aren't coming to church, as we so often hear. It's that their encounters when they do show up aren't compelling. That's different in important ways. We need to get to the bottom of that. I think he might be right.
Certainly, when sit in a coffee shop (as I do regularly, and not always in clerical garb), I always hear people talking about God. 100% of the time. That suggests that there's strong interest in God, that people have a yearning. Alas, too often the church can't be bothered to shake out of old habits. We want people to come to us on our terms.
Let's start with a simple idea. Maybe people just aren't going to be able to make it to Sunday morning church — too many other competing interests. Maybe we need to think about Sunday evening, or maybe Thursday evening is the answer. Perhaps someone's commitment at the Wednesday soup kitchen should be celebrated. Maybe the priest needs to lead a bible study at the softball field for parents, who might welcome the diversion from a long day of game-watching. House groups might meet alongside traditional parish worship gatherings. We need to realize that the church's mission is not defined by one hour on Sunday mornings. (In this country, clergy compensation is sometimes tied to Sunday attendance; that's got to change to a broader measure!)
So let's count our sheep. Let's make sure we're counting all of them. And let's figure out why some of them prefer to graze elsewhere, when our grass is pretty fantastically green.