Jelly bean prayer, catholic edition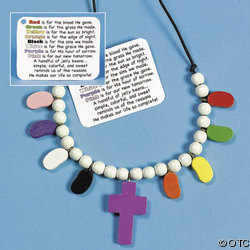 My blogging friend Fr. Tim Schenck recently posted the lamentable "jelly bean prayer" on his blog. Being a talented writer, Tim made some good improvements, offering the "Anglicanized" edition. Naturally, Tim's version of the jelly bean prayer offended my catholic sensibilities. I am ignoring the irony of including "jelly bean", "catholic", and "sensibilities" in the same sentence.
Anyway, go read the original prayer and Tim's improvements. Then come back here to read the poetic masterpiece I have created: The Catholic Jelly Bean Prayer.
Red is for the Precious Blood,
Green is for Rogation's spring buds.
Yellow reminds us of golden things,
Orange is for candle-lit bling.
Black is cassocks, right and meet,
White is an amice tied and neat.
Purple is for stoles worn in confession
Pink is laetare, gaudate, copes in procession.
Jelly beans point to Mother Church,
they're sweet and, like her, won't leave you in the lurch.
I encourage the creation of other versions of this prayer. Perhaps we could get a volume in the Enriching Our Worship series. In the meantime, I'd like to see this prayer used liturgically (or at least during coffee hour). I'm looking at you, Fr. Alexander.