Egeria had no idea…
I love reading the Pilgrimage of Egeria. For those who have not yet encountered this fantastic work, it's the journal of a fourth-century woman who visited Jerusalem. It's chock full of vivid descriptions of liturgies and sites, especially the celebration of Holy Week.
I remember back when I read it the first time. When I got to one part, I was greatly amused/horrified. She describes the Good Friday rituals, including the veneration of a portion of the True Cross. When the True Cross is exposed for veneration, deacons keep careful watch over it.
It is guarded thus because the custom is that the people, both faithful and catechumens, come one by one and, bowing down at the table, kiss the sacred wood and pass through. And because, I know not when, some one is said to have bitten off and stolen a portion of the sacred wood, it is thus guarded by the deacons who stand around, lest any one approaching should venture to do so again.
Got that? Someone had tried to take a bite of the True Cross. If only Egeria were here today, she'd see this ghastly idea has not gone away. But now people want their cross to be True Chocolate.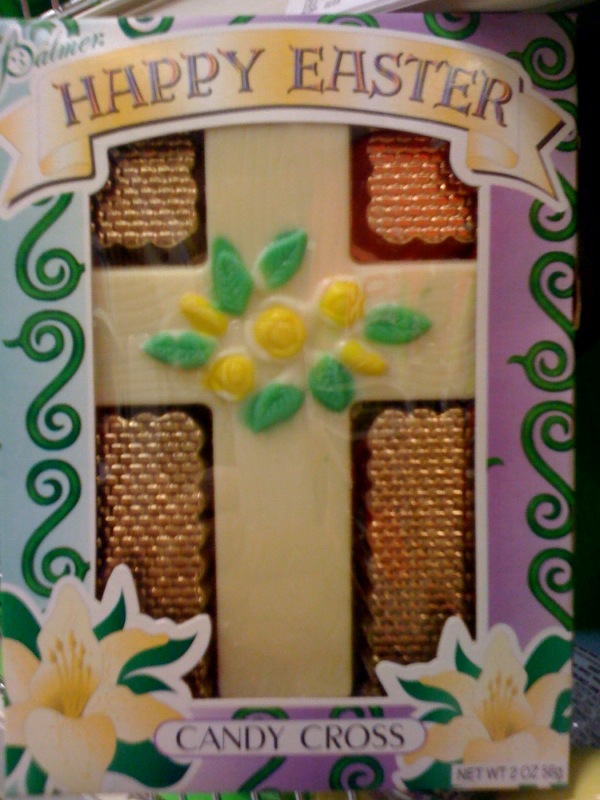 I was in Target today, and I spotted a "Candy Cross" with "Happy Easter" emblazoned on the box. This instrument of our salvation was available in dark or white chocolate. You could get nutrition information for this image of a device used for shameful torture. Does anyone else think this is strange? Sure, chocolate bunnies, egg-shaped sweets, and jelly beans are near and dear to my Eastertide cuisine. But it seems odd to market the cross as a thing to be consumed. Literally. To be consumed.
Over on Rick's Green Grass, I read this a few days ago.
I have, however, recently realized even I, progressive and liberal as they come, have my limits. I was introduced to my boundaries courtesy of the Hershey Chocolate Company and my local grocery store. In a no doubt well-intentioned move to answer more conservative Christian concerns and infuse a little religion into the secular, Hershey's has come out with the chocolate Easter cross (in white or milk chocolate). So instead of biting off those chocolate bunny ears, children can now munch on a piece of Jesus' cross. Am I the only one kind of creeped out by this?
No, Rick you are not the only one creeped out. However, sadly, I could not photograph the same Hershey's crosses at Target. There were dozens (yes, dozens) of empty cases, but no Hershey's crosses to be purchased. Hundreds must have sold before I got there. My photo is of the brand X dreck.
I know, it's not that big of a deal. But we churches need to reclaim Easter. How do we do that? Not by merely whining about things like chocolate crosses or complaining about how church members fit their church service attendance around family Easter brunch preparations. We need to let the feast speak for itself. Seriously, there isn't a better story anywhere. Talk about an upset victory! Death and evil did their best. It looked like they had won. But then, in an overtime upset, love and life came back to win. For everyone. For ever.
So Egeria would probably be horrified by the candy aisle in Target. She'd be more horrified by the bland pabulum that we pass off as liturgy and preaching in most parishes. Let's fix that. Then the candy aisle will sort itself out. What if our liturgies were as vivid as those Egeria describes? I remember the excitement in a parishioner's voice as she enthused about her first experience at a Great Vigil of Easter. "That was amazing," she said, "I wish every Sunday could be like that." Indeed. So do I. If we managed that, life would sure be different for people, for their parishes, and for the Episcopal Church.
Just don't take away my Starburst jelly beans or SweeTARTS bunnies & chicks. (You can keep the Peeps.)