Yes we can, by George!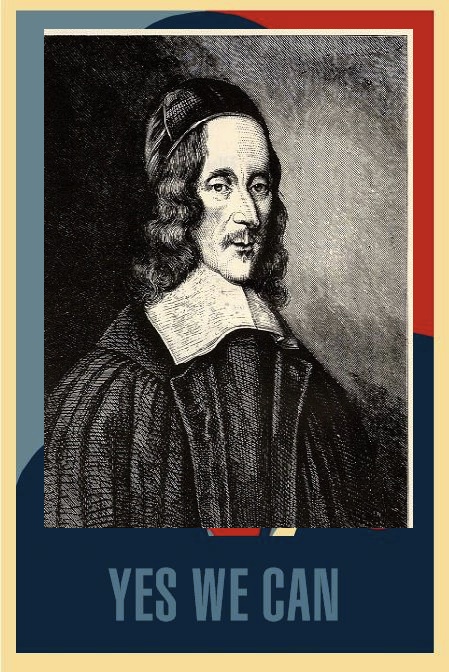 UPDATE: A short while ago, Julian conceded the contest, as George managed to keep a small lead in the final hours of the polling. Details here.
This will be my final post in a series promoting the cause of Blessed George Herbert. No, I'm not pushing him for official canonization. As most 7WD readers will know, I've been rallying support for George in Lent Madness. This is the creation of my friend Fr. Tim Schenck, who is apparently using this to fund his curate's position. (There's not a shred of truth to that, but it's a fun rumor — which you can help to spread.)
Anyway, George has made it all the way to the finals. Now he's pitted against Julian of Norwich for the coveted Golden Halo. To be honest, I didn't think George had a chance. The force is strong in Julian. However, as I write this, George has a slight edge (52-48). So I figured I might weigh in on why I like George Herbert.
Unlike previous rounds, I will not trash-talk George's opponent. Julian is awesome. Well, if Julian is her real name, that is. There's some question about that, with some people believing the saint was given the name of a nearby church after the fact. But far be it from me to suggest that she's hiding anything. Seriously, when I read Julian's visions in seminary, I found them wondrous. Who doesn't love Julian?
Of course, this is all in good fun. I'm grateful to Tim for attracting lots of buzz to the blessed people in our sanctoral kalendar. I'll bet lots of people have Googled saints this Lent, and that's a good thing. My mockery of saints has been intended purely in fun. The competitive spirit was high, as one blogger described me as her former friend. Ouch!
As usual, I have digressed. I love George Herbert because his poetry is breathtaking. The Temple is an unmatched collection of Christian poetry. His volume on the priestly life, The Country Parson, still has much to teach clergy today. And it inspires me that he turned down a life of material success to focus on the spiritual life. Even there, he declined preferment to stay in his rural parish in Bemerton. It was about vocation for Herbert, not fancy digs.
I've posted loads of great stuff by George Herbert here. Go check it out. And then, if you are inspired, please vote for George.