Hymn for Lent (Day 27): Bread of the world, in mercy broken
This one popped to mind as I read the Epistle appointed in the Office readings for today. Check the videos below, for a really nice setting in a contemporary style.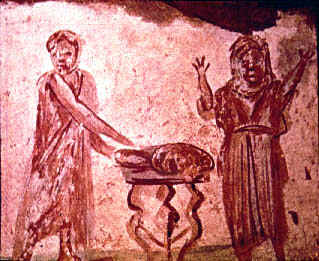 Bread of the world, in mercy broken,
Wine of the soul, in mercy shed,
by whom the words of life were spoken,
and in whose death our sins are dead:
look on the heart by sorrow broken,
look on the tears by sinners shed;
and be thy feast to us the token
that by thy grace our souls are fed.
Words: Reginald Heber (1783-1826)
Here's a setting with praise band. Delightful! And here's an organ prelude based on the tune to which Episcopalians will be used to singing this, Rendez à Dieu.
Painting from the Early-Christian catacomb of San Callisto (Saint Calixte Catacomb), 3rd century. Wikipedia.