Spiritual adults in church?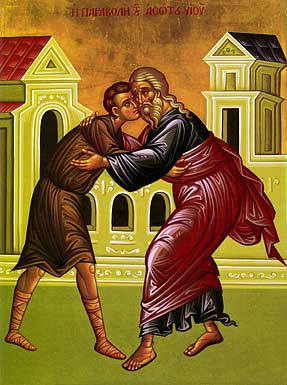 I had the pleasure of getting to know Fr. John Beddingfield last year during CREDO. Since then, I've been reading John's excellent sermons from All Souls, Washington. This morning he offered a fine sermon on today's Gospel. Citing Henri Nouwen's remarkable book, The Return of the Prodigal Son, John says, "Nouwen believed that Jesus tells the parable of the lost child who is found not so we can relate to the prodigal, not so we can relate to the older child, but so that we can relate to the parent; the parent who forgives."
He continues, applying this to the Church.
The life of faith is a growth into spiritual adulthood. It is the business of children, after all, to grow up. Saint Paul writes, "We are children of God. And if we are children, then we are heirs, heirs of God and join heirs with Christ, provided that we share his sufferings, so as to share his glory." (Romans 8:17)

What would the Christian church look like if it were filled with spiritual adults? The spiritual adult does not blame the problems of the church of a bishop or a few bishops, but takes responsibility for being the body of Christ. The spiritual adult in a parish does not always sit back and wait for the clergy or vestry or unnamed and unknown volunteers to do everything, but takes responsibility. And just imagine the power of a church that is filled with spiritual adults who offer forgiveness and welcome. I can't help but wonder if one reason so few young people are in church these days has to do with the fact that so few of the adults have ever really grown up themselves. If a church offers no wisdom, no maturity, no leadership, then why should a young person bother?
I couldn't agree more. So why isn't it the case that the church is filled with spiritual adults?
Alas, I fear too many clergy don't push it when people explain, "I'm just too busy to get involved" or "I'd like to take that class, but I can't commit". We let people get away with spiritually immature behavior, e.g. the parishioner who throws a temper tantrum and is not held to account. We spend our time dealing with those who act out, which prevents us from nurturing those who want to grow.
After a couple of generations of "I'm OK, you're OK" people genuinely think that one can be a Christian and fit that into whatever one imagines is important in life, instead of the other way around. Too many people set their course in life (career, rearing children, making money, becoming famous) and try to squeeze their faith into that journey. I have grown weary of people who say they cannot attend church on Sunday because it is "family day". (Now before you say that we need to add services at other times, I am quite sure there is not service time that would work for this particular crowd.)
I lay the blame for the sad state of Protestant Christianity in the US at the feet of clergy, who have not challenged people to do the things Christians are called to do. Celebrating the Lord's Day with a Christian community is essential, I would say, to our health and salvation (in the sense of sozo, not necessarily in getting one's ticket to heaven punched). Adults need to immerse themselves of God's Word and in a life of prayer. This does not mean a theology degree, but a few minutes spent each day reading the Scriptures and opening ourselves in prayer. There is more, of course.
If we aren't willing to "grow up" as Christians, we can't become spiritual adults — which means we can't do the things Fr. Beddingfield calls us to do. The answer to helping people live an abundant life and to building up the church is NOT to lower the bar so that everyone can cross. Instead, we should ask people to follow Jesus using his own dramatic language "taking up our crosses" and "leaving our nets". My hunch is that more people would be interested in a church like that, instead of the I'm-OK-you're-OK pablum that gets passed off across the nation.
Of course, it would be easy to commit another deadly sin here: the over-programmed church and the correlatively exhausted parishioners. As any number of emergent church thinkers are suggesting, we mustn't measure programs by how many people show up, but rather on how many lives are changed. The point of a church is not a offer an enticing smorgasbord of classes, meetings, groups, and committees. The point of a church is to reconcile people with God. It's hard to get past institutional thinking though.
If this were easy, Protestant congregations would be overflowing. I certainly do not pretend to have it all figured out. However, I am quite clear that we have to turn our present thinking on its head. As my friend John says, we need spiritually mature people to take their part in the church. We need to shift our focus from making people feel good (whatever that means) to bringing people into the abundant life that Jesus promises. We need to shift our focus from programs to people. We need to stop making things easy and contemplate making things hard. We clergy need to manifest the kind of discipleship we hope to see in others.