Hymn for Lent (Day 14): Come, sinners, to the Gospel feast
This choice is inspired by the Gospel reading for the Feast of St. Chad. It also goes nicely with the Gospel reading appointed in the Eucharistic lectionary for today. Finally, in a bout of ridiculous cleverness, it portends tomorrow's commemoration of Sts. John and Charles Wesley. Oh, and I also enjoy the fact that this text is said to have aided in the conversation of the heathen in Boston — of which there are still a few. See the bottom of the post for more info.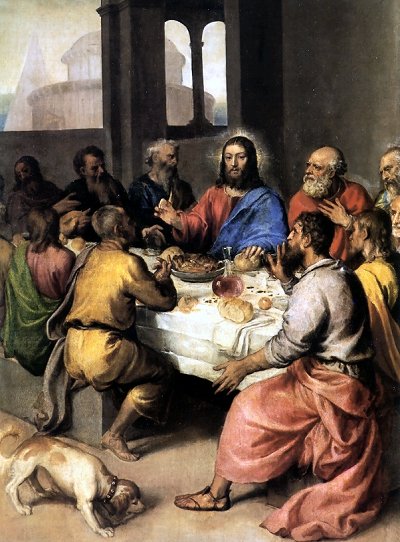 Come, sinners, to the Gospel feast;
Let every soul be Jesus' guest.
Ye need not one be left behind,
For God hath bid all humankind.
Sent by my Lord, on you I call;
The invitation is to all.
Come, all the world! Come, sinner, thou!
All things in Christ are ready now.
Come, all ye souls by sin oppressed,
Ye restless wanderers after rest;
Ye poor, and maimed, and sick, and blind,
In Christ a hearty welcome find.
Come, and partake the Gospel feast;
Be saved from sin; in Jesus rest;
O taste the goodness of your God,
And eat His flesh, and drink His blood!
You vagrant souls, on you I call;
(O that my voice could reach you all!)
You all may now be justified,
You all may live, for Christ hath died.
My message as from God receive;
Ye all may come to Christ and live.
O let His love your hearts constrain,
Nor permit Him to die in vain.
His love is mighty to compel;
His conquering love consent to feel,
Yield to His love's resistless power,
And fight against your God no more.
See Him set forth before your eyes,
That precious, bleeding Sacrifice!
His offered benefits embrace,
And freely now be saved by grace.
This is the time, no more delay!
This is the Lord's accepted day.
Come thou, this moment, at His call,
And live for Him Who died for all.
Words: Charles Wesley, 1747.
Make sure you visit this page, which has the story about converting heathen that I reference above. Please do not complain about me calling lots of people in Boston heathen. You can't take things too seriously on this blog. While you're over there on that web page, scroll down to the verses "commonly omitted". Among them are these three, which I intend to quote next time someone is making an excuse for missing church:
"Have me excused," why will ye say?
Why will ye for damnation pray?
Have you excused—from joy and peace!
Have you excused—from happiness:
Excused from coming to a feast!
Excused from being Jesus' guest!
From knowing now your sins forgiven,
From tasting here the joys of Heaven.
Excused, alas! why should you be
From health, and life, and liberty,
From entering into glorious rest,
From leaning on your Savior's breast?
They just don't write them like that any more. Alas.
OK, seriously, this hymn offers a theological depth to inclusion that is sorely lacking in today's Episcopal Church. We should not invite everyone to come to church because they are entitled to entrance, but because God desires to save them through Jesus Christ's redemptive love. There's a big difference. One view (espoused quite often in Episcopal circles) is people-centered. The other view is God-centered.
Last thing: wow, there are a lot of verses. I cannot even imagine what would happen if we were to attempt to sing a 16-verse hymn next Sunday at Christ Church. There would be ensuing irony as the hymn about invitation resulted in the eviction of the minister, I suspect.