Fight the good fight!?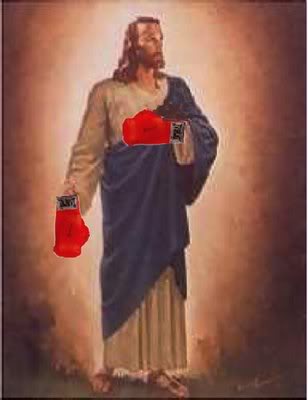 The New York Times reports that some pastors are taking Timothy 6:12 to a new level, using martial arts or boxing as part of their evangelism strategy.
Mr. Renken's ministry is one of a small but growing number of evangelical churches that have embraced mixed martial arts — a sport with a reputation for violence and blood that combines kickboxing, wrestling and other fighting styles — to reach and convert young men, whose church attendance has been persistently low. Mixed martial arts events have drawn millions of television viewers, and one was the top pay-per-view event in 2009.

Recruitment efforts at the churches, which are predominantly white, involve fight night television viewing parties and lecture series that use ultimate fighting to explain how Christ fought for what he believed in. Other ministers go further, hosting or participating in live events.
I'm not sure what to make of this. As a near-pacifist, I have trouble seeing this as a appropriately tied to the Christian message. On the other hand, especially after reading the quotes from some people in the programs, it's hard to deny that it works. Let's face it: for much of the world, the choice not to fight is an unattainable luxury.
My first introduction to this world was last week, when "Fighting Father Dave", who ministers in Australia, linked to my blog. If you want a glimpse into a fascinating and singular ministry, go check out his website. Be warned that you'll get a popup when you try to leave. I guess that's taking the "magnetic church" to a new level for the web.
I understand the argument that boxing isn't really fighting, but rather a sport. I'm not sure I buy it, but to the extent that point is stipulated, there is little objectionable here. Martial arts, while they may be used by fighters, are not inherently about violent attacks. And, as the article says, many churches make use of yoga and other "non-Christian" activities in their programs and evangelism.
What I'm saying, I suppose, is that while my first reaction was "how dare you!", I quickly moved to seeing that this is a group of people doing just what St. Paul suggested –they are being all things to all people. As far as I can see, they are faithful to Christ's message. They are simply acknowledging through actions what most people already know: this life is a constant struggle, sometimes a literal fight between good and evil. They are harnessing fighting to fight the good fight. While I've never wanted to attend a boxing match, I'd love to see one of these pastors and their flocks in action.
A couple of Sundays ago, I wore my cassock to preside at the annual meeting of the parish I serve. A little girl said to me, pointing to my cincture with its black fringe, "That's a funny belt!" She added, "It looks like a karate belt." Everyone around laughed, and I cracked a joke about being a "black belt priest — don't mess with me." Maybe we should start a karate ministry…